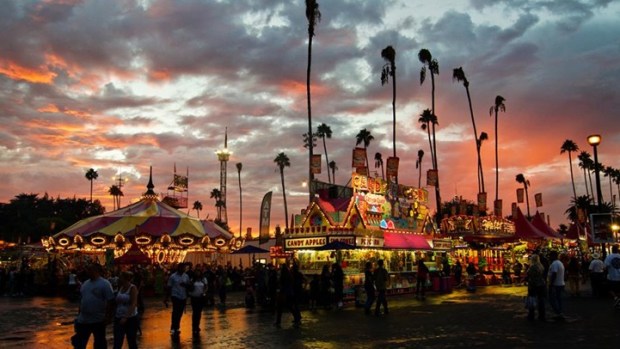 LA County Fair
Might your wedding evening be this pretty? The LA County Fair has a contest on where one fair-loving twosome will be selected to say "I do."
PAIR UP IN POMONA: The Los Angeles County Fair has offered couples a lot of ways to get cozy over the course of its nine-plus decade run. There's getting stuck at the top of the Ferris wheel for a few minutes (a prime place to a) kiss b) admire the lights below and c) mildly freak out until the wheel starts turning again, which it always does). There are the get-close photo booths and the dark rides, where holding hands is the only way to survive the spooky jump-out ghosts and crepe paper monsters. And sharing an ice cream cone or a hot dog or both? Practically a rule in the Coupledom 101 handbook. Thus the whole idea that you could get hitched at the fair -- as in married, as in nuptialed, as in "I do"-ed -- kind of makes sense, especially if you're someone who was hoping for a ceremony in an unusual or even outlandish spot. Nope, the vows probably won't be read on the Tilt-o-Whirl, but they will happen on the fairgrounds during the late-summer run of the largest county fair in the country. Are you and your midway-lovin' honey intrigued? Think you might have a chance to win?
THEN BEST ENTER: The LA County Fair posted entry information on its Facebook page. You have a choice of four dates to go for -- the Saturdays of the September spectacular, basically -- and there's some other odds and ends to address. A pro videographer, photographer, wedding cake, other extras, and a night in the Sheraton Fairplex Honeymoon Suite are all there for the winning twosome's taking. Best of all, in our book? You've got the fair right there. Built-in honeymoon possibilities, and quite the story to tell everyone for the rest of your lives. We got married at the fair.