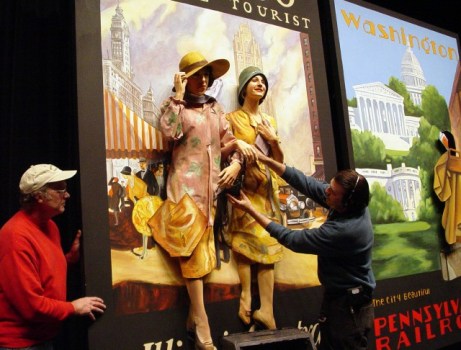 Pageant of the Masters
The Pageant of the Masters wraps for another season on Wednesday, Aug. 31.
LIVING PICTURES: The Pageant of the Masters has been around Laguna Beach for a few years (few=almost 80). And yet summer after summer people seemed shocked to hear it is nearly over so soon after it has begun. This is one of the gifts of living in Southern California, of course; so many interesting things are always afoot that we sometimes can't accept that certain events aren't around for longer than a few weeks. And the Pageant's 2011 few weeks are soon to end. Wednesday, Aug. 31 is the closing night, but there are some "Last Chance" tickets available for Wednesday, Aug. 24 and Friday, Aug. 26.
A QUICK GLANCE... Says they're on the Director's Tier Side. There's also a 50% off Internet special going down. Nope, you're not right up against the stage, and right in front of the living masterpieces, but you're there and part of the scene. And at a discount. The theme for this year is Only Make Believe, so only go if you love whimsy and magic and surprise. Oh wait. We all love that stuff. If you click here, you can also get in the Pageant's social media loop, meaning you'll be on top of the 2012 tickets from the get-go.