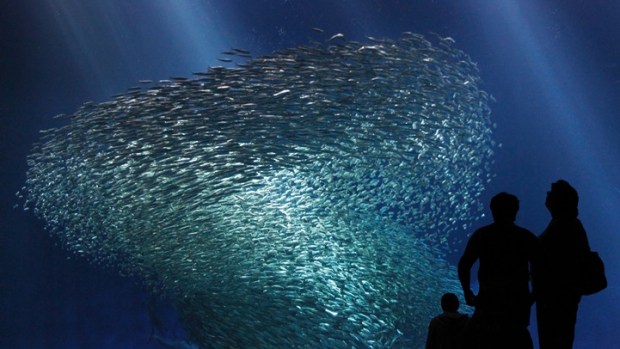 Monterey Bay Aquarium/Randy Wilder
School of Pacific sardines (Sardinops sagax) in The Open Sea exhibit. See them later on Saturdays and Sundays at Monterey Bay Aquarium, through Aug. 31, 2014.
WHAT DO FISH DO AFTER-HOURS? It's not a riddle, though it sounds like the very opening line that might send a 3rd grader into giggle fits (and net you an array of colorful responses). The fact is fishes do pretty much what they were doing earlier in the day, given that they tend not to follow our human calendars and schedules, and thank goodness for that. But what humans do adjacent to fish after-hours is a whole other bucket of worms, indeed. If we people are inside an aquarium, and the sun is setting, we tend to want to listen to live tunes, take it all down a notch, post-afternoon bustle, and maybe enjoy a glass of wine as we stroll by the jellies exhibit, murmuring and making chitchat. True? Sort of? Yep. So nope, the denizens of the aquarium don't change up what they're doing post-6 p.m., but we humans can, now that the Monterey Bay Aquarium is keeping later hours on Saturdays and Sundays through the summer.
WHAT THAT MEANS: Starting on July 5 -- that's the Sunday of Fourth of July weekend -- and running through Sunday, Aug. 31, the Cannery Row institution will stay open through 8 p.m., adding an extra two hours onto the aquarium day. But it isn't just a matter of someone arriving with the lock-up keys a little later; a whole slate of jazzy live music and a no-host bar and a "specially crafted menu" created by Chef Cindy Pawlcyn, the aquarium's culinary partner, will fill out those 120 minutes. And, yes, you'll be able to "roam the aquarium with wine in hand" admiring the spindly crustaceous fin-laden things, all by the calmer vibes of twilight. Sounds summer-y, right? A little more chillaxed than the go-go vacation push sometimes yields? Truly, this is the vibe: easy, educational, and wine-nice.
PLUS... don't forget: The much-talked-about and squidged-over Tentacles exhibit is still sucker-sweet and swimming onward. Make that your first stop-by, if possible. (And, yes, "squidged-over" is what people do when they're delighted by particularly inky, multi-limbed creatures of the deep; it's practically a scientific term.)