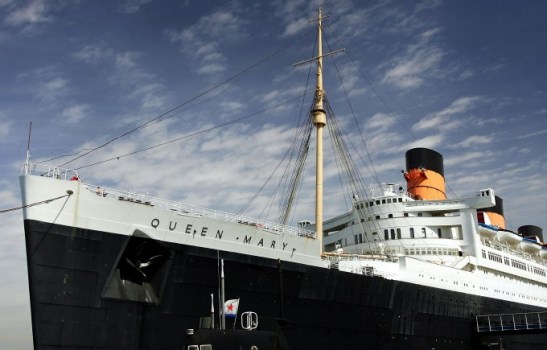 Getty Images
Stay on the big ship for a song, during the Queen Mary's 40% Off Sale.
BRASS, BELLS, WHISTLES: We're not saying that one feels more regal boarding the Queen Mary, but it is impossible not to daydream about the days the grand dame of Long Beach once sailed the oceans, transporting movie stars and world adventurers to ports all over the planet. All of the brass and wood and old dials and those depicted-on-everything stacks are to thank, in part, for goosing those daydreams once you've spent a minute or two wandering the ship. Everything just feels so movie-set-y, lending one an instant chin-in-the-air, shoulders-back stance (if one full embraces the moment). But the rather wonderful thing is you don't have to leave the Queen Mary right away, if you're enjoying swanning about the decks and restaurants and that oh-so-Art-Deco-licious bar, with its curves and stiff cocktails. You can spend the night on the ship, of course, and you can do it for 40% off, if you act in a speedy manner. The 40% Off Sale is on, through early on Friday, Feb. 7, and the deal is as shiny as a freshly polished banister.
THERE ARE ASTERISKS... of course, especially around Valentine's Day, so don't try and book over that weekend. But most of the other days are good to go, as far as honoring the deal, and you basically have your pick through the end of April. Nice stuff, especially considering that spring break and the holidays shall soon be upon us, and if you're looking to do some celebrating, the shiny ship is an historic spot to raise a toast. Oh, and an add-on? You'll nab two tickets to the Diana: Legacy of a Princess exhibit, too. So, go, go, GO, for goodness sakes! A 72-hour sale ticks away faster than a perfectly punctual ship's clock. Read your fine print, of course, then get daydreaming about acting all regal and such. Well, why shouldn't you put on a few airs, for a day or two? All in good fun.