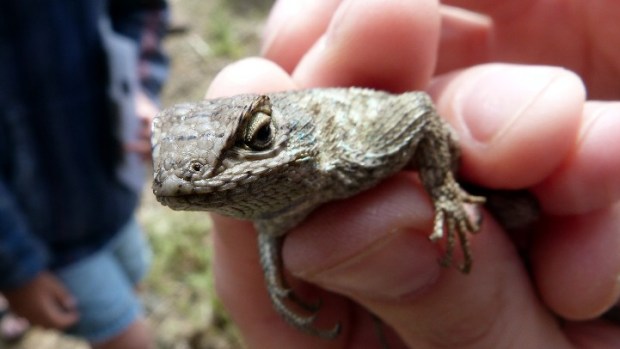 Lila Higgins
Will you rendezvous with this cutie during your Malibu Creek wanderings?
MISNOMER: Some people think that the Natural History Museum -- and any museum of natural history -- only puts the focus on very large, bony things that lived eons ago. The large, bony part is true, of course, but a great institution also studies and celebrates very tiny things that happen to live right now. In short, if a creature is part of the natural world, they get their museum love, regardless of when they roamed that natural world. That's one reason we're so fond of the Natural History Museum's field trips. They're family-oriented and very much about getting out of the grand halls and shadowy basements and into the trees and sunlight. Plus? How long has it been since you've been on a field trip? If you answered "a few decades" it is time to suit up the tots and head out.
NEXT UP: We love this one. Lizard Scouting in Malibu Creek is coming down the pike in April -- Saturday, April 21 to be exact -- and families will indeed be looking for small scurriers out among the burbling waters of the Malibu-close canyons. Cost is $25 per person, and the museum's own Curator of Herpatology -- coolest job title ever? -- will be in the house. Or the creek, rather. We should note a couple of items that are different from the field trips of your youth. One? Mom isn't packing your lunch for this one; you must. (Well, maybe Mom is, and if so, hooray for Mom.) And two? There's no big yellow bus driving you there. Transportation is up to you. That's it. Now, start getting the family pumped for a morning of lizard-looking. If there are quizzical stares in the bunch, you might also explain how this is sometimes called "unplugging" and it is essential for all of us now and then.