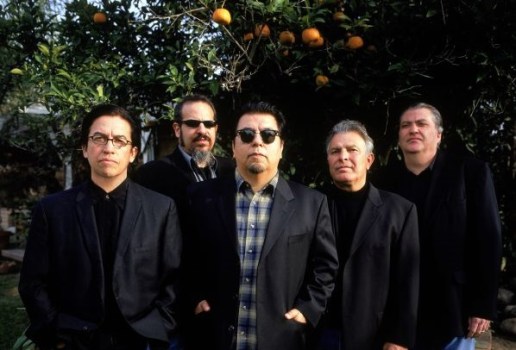 Los Lobos
Los Lobos have joined the June-time, Father's Day Saturday Johnny Cash tribute in Ventura. Name? Roadshow Revival.
MANY AVENUES: There are countless creative ways to fete a musical legend who has now passed. Playing his music in robust rotation on radio stations is one fine homage to his or her memory, as is visiting the location that inspired and informed the artist in life. But a mondo, tune-filled party packed with the accouterments that symbolize much of what the musician sang about is a truly touching way. Add to that some big bands, acts who've been shaped by the legend's sound, and you have just about the perfect, memory-raising, life-informing, parasol-colorful, guitar-strumming celebration around. We are, in fact, speaking of Roadshow Revival here, the annual Ventura-based tribute to Johnny Cash. Loads of cars pull into the fairgrounds, and singers and fans, too, making for one heck of a convivial Father's Day Saturday hoedown. Word comes that one of LA's own great house bands, and some of the truest heirs to Mr. Cash's seminal, heartache-and-poetry sound, will be in the house (or great outdoors, rather). It was just announced that Los Lobos will join the Saturday, June 14 bash.
ON THE DOCKET: The wide-ranging act -- "rock, Tex-Mex, country, folk, R&B, blues, and traditional Spanish and Mexican music" are part of the Los Lobos-powered alchemy -- will play work from the end-of-2013 album "Disconnected in New York." Other elements of the day will include a pin-up fashion show, hot rods, and tunes from the Paladins, James Intveld, Mighty Cash Cats, and The Cold Hard Cash Show. Yep, pompadours, black suits, and shiny-toed shoes will be much on display, given that day is also about the sartorial feel of retro sounds. Dig it? Want to dance to some of the musical heirs to the Man in Black? June 14 is cruising this way in a muscle car made of pure vintage sound.