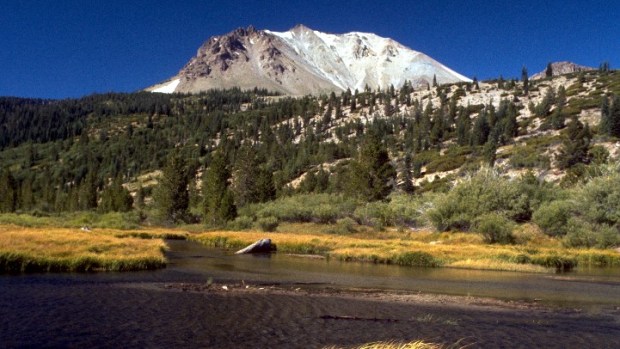 National Park Service
Visit California gives to the love to Lassen Volcanic National Park.
SUMMER DREAMS: It is just about Valentine's Day or so when our flights of fancy turn to warmer days, and the road trips we want to take during those warmer days. Which makes the fact that Visit California loved on Lassen Peak on Feb. 14 a bit of a coinkidink (note to self: Don't make a habit out of using that word). We were thinking a trip to the Shasta area might be in order this summer, but, of course, we know that Lassen Volcanic National Park isn't part of Mount Shasta, and that is probably an all-too-common assumption, given the fact that Mount Shasta, being Mount Shasta, kind of rules the Redding-close region. Lassen is pretty darn close though, in California terms, so including it on a Shasta jaunt, or just making the park your main destination, is well worth it.
WHY, IN PARTIC? Well, Visit California trots out words like "otherworldly" and "Mars-scape." It still looks plenty mountain-y, but given the fact that it is a plug dome volcano -- the world's largest -- there will be unmountain-like elements. Oh, and don't even start us on our state's great volcanic plugs. Morro Rock? Pluggy perfection. There's plenty to do at Lassen, including the hike up, but you'll want to think about it for the warmer months, when, wait for it, snow can still appear at higher elevations. If snow happens to be there during your trip, well. We'd call it a coinkidink, since we mentioned it here, but, as you read earlier, we've vowed to never use that term again. "Lassen" and "volcanic plug," however, are words we just can't get enough of.