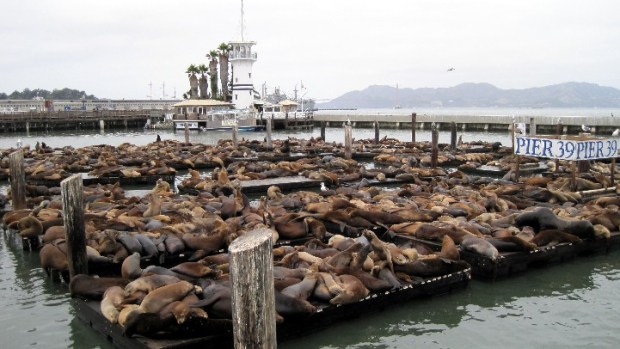 Pier 39
Celebrate the 22nd anniversary of the Pier 39 sea lions from Jan. 19-22, 2012.
FAMOUS FLIPPERS: When visitors cite the landmarks and major sights of California, they often name, oh, the Hollywood Sign, the Golden Gate Bridge, the classic buildings of Balboa Park. But, of course, our state is home to many living tourist destinations. The redwoods. The sequoias. The big blue thing lining our long west coast and all of the big blue thing's many inhabitants. And the famous sea lions of San Francisco's Pier 39. We're pretty sweet on all of our state's living landmarks, but the sea lions bring a special twinkle to our eye, and many eyes. After all, they're nature, right there, just a few waves away from one of the world's great metropolises. It's city and the wild, hand-in-flipper. And the tourist? My golly they go mad for those water-close beasties, as they should. Now tourist, in-state visitor, and local alike can applaud the sea lions over a three-day celebration of the mammals' 22nd anniversary.
BARK BARK BARK: Nope, we're not implying that the sea lions have been around, on earth, for 22 years. But they did arrive at the Bay Area's most guidebook'd pier 22 years ago. With that in mind, the Aquarium of the Bay and the Marine Mammal Center Naturalists will be hosting tours over the Jan. 19-22 weekend. There's also a "meet-and-greet" with Salty, who is, flippers down, the pier's frontman. Frontsealion? You get our point. Whatever your feelings about what is, without a doubt, one of San Francisco's biggest tourist draws, you're charmed by its barkiest denizens. You can't not be. It's like in the California charter or something, we're pretty sure. Happy 22nd, Pier 39 sea lions!