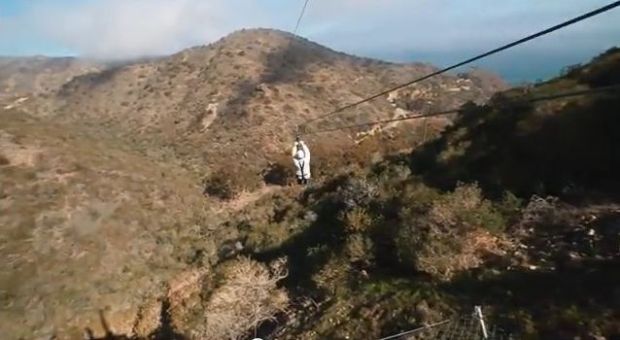 Private Los Angeles Tours
View Catalina from above -- though not by plane or glider -- as you zipline across a notably sized canyon. You can do it, brave wanderer.
'TIS THE SEASON... for joyful feelings of jealousy. Oh, did you think we were going to say blooming roses and crocuses and balmy breezes and glimmer-green lawns? Well, spring's good for all of those things, too. But it is right around the time that the warmer days hit, and stick around, when certain types of photos begin showing on Instagram. Beach photos, yes, and hiking shots, but we're also speaking of those snapshots that show your smiling, helmet-rocking friends just seconds before they zing along a zipline at a tropical or fabulously picturesque locale. Please; who hasn't asked a pal to take a quick picture for the social media files, just moments before the zipliner goes squealing away to the other side of the treeline or canyon or river? It's almost zipline law: Suit up, helmet on, smile, peace sign, pose. But you don't need to venture to an island that's a half day away, by plane, from Southern California. You only need to make for Catalina Island by, yes, private helicopter.
OHHH, JEALOUS: That's makes for a pretty fun start to the story for your social media snapshots. Private Los Angeles Tours can whisk -- because "transport" is just a little too dull a word in this instance -- you and your party to a particular burg that's 22 miles out in the Pacific. From there, you'll golf cart it in Avalon, because that's what you do, and then you'll make for the zip lines. They're on the long side, for sure: "(Y)ou'll travel close to three quarters of a mile over five consecutive zip lines at heights of 300 feet above the canyon floor at speeds pushing 45 mph!" That exclamation point is definitely well placed. It's a luxury day, so think big-spendy, and an extra plus? Designing your day, with the company, is encouraged. Need to know more, island flier? Before you start plotting those social media jealous-making pics, read on.