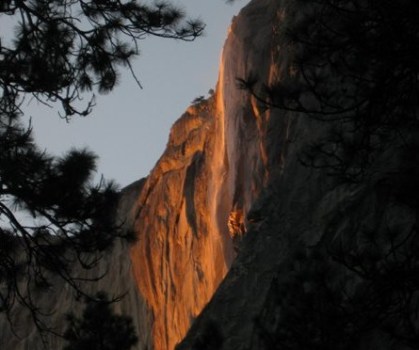 Horsetail Fall
On certain February days, just around sunset, Horsetail Fall in Yosemite glows with a fiery beauty.
THAT MAGICAL MOMENT: The words "timelessness" and "nature" and "eternal" appear in many a book and essay about the epic and wild world, and universe, we occupy. And while timelessness as a concept applies to the natural process of things, we also know that there are many seasons and moments and clocks and precision-based happenings that occur in our oceans and forests and deserts. Animal migrations could appear in this category, and eclipses and other profound events that return with some regularity. One of the brightest events, quite literally, is what happens at Horsetail Fall in Yosemite National Park each wintertime. Well, let's be more specific than that: What happens each February, and for a few glorious days at that. The upshot, which will not do it justice in any way, shape, or form, but should plainly explain, is this: The setting sun hits the waterfall just right, over a few nights, making it seem to glow within. Some say it looks like fire, and some call it incandescent. It's amazing and beautiful and all the nice words.
AND... it isn't easy to catch. Overcast afternoons can dampen visitors' enthusiasm, and not timing it just right can make the most patient of photographers pretty grumpy. So one has to approach Horsetail Fall with excitement, hope, and the knowledge that you may just have a nice day in Yosemite, with no view of the strange phenomenon. Yeah, you're game, right? You want to try? Then be in the park anywhere from the end of February through the very beginning of March. In fact, there's a photography workshop through the Yosemite Conservancy, or you can, of course, go on your own. The fall is snug on the east side of El Cap, so we're talking valley here, not high country. Need tips on where to best see it? The NPS has you all set up, wonder seekers.