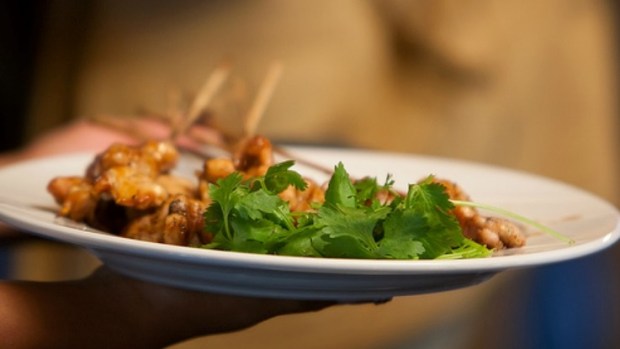 Mammoth Food & Wine Experience
The Mammoth Food & Wine Experience gets cooking at Mammoth Lakes from Friday, July 5 through Sunday, July 7.
MOUNTAIN MEALS: When you think about mountain resort and the consuming of calories, your mind is apt to alight upon a few different meals. A? Stick-to-the-ribs stuff, like burgers, cheeseburgers, bacon burgers, veggie burgers, and other food products in the burger family. (Also, usually, a side of fries or rings.) B? Your mind might drift toward the hot toddy family, as in the warming whiskeys and ciders you have, fireside, when you end a brisk day on the slopes. And C? Edible products that can be roasted over an open flame, such as marshmallows, hot dogs, s'mores, or some combination within (only attempt hot dog s'mores if you're brave enough). But mountain eating has reached gourmet heights over the last few decades, and not just for the wintertime ski crowds, either. Summer business at ski resorts can also be healthy, what with picnickers and daytrippers and wildflower seekers and the non-skiing set. And what of the set that wants both a beautiful, snow-free mountain experience and a gourmet meal or two? Well, at least in the Sierra Nevada, there's the Mammoth Food & Wine Experience.
FOURTH OF JULY WEEKEND: The experience is set to roll immediately following the Fourth of July holiday (always a big time around the destination). From Friday, July 5 through Sunday, July 7, chefs and foodies will gather for seminars, demos, a Brazilian barbecue, a Mammoth Village wine walk, talks on pickling and olive oil, a grand wine tasting, and a gospel brunch. Tickets begin at $35 for individual seminars, and go up to package tickets for several events. And, yeah, it is nice to be at a cooler elevation come July. We do indeed love the rib-stickers like burgers and cocoa in the snow, but a greener pasture come summer (and a few posh eats) is a very welcome thing, too.