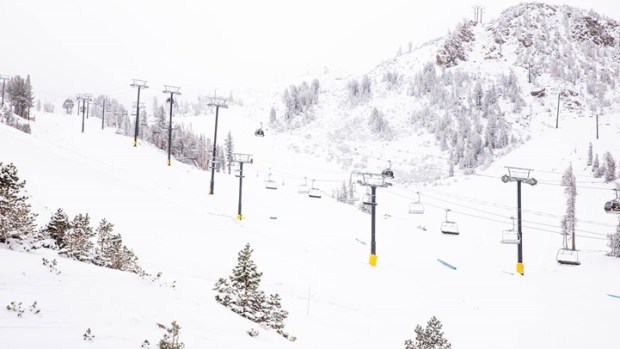 Mammoth Mountain
A Mammoth Mountain mid-week pass that's a-ok for 20 days? It's $299 and kicks off on Jan. 13.
THE MOUNTAIN IN DECEMBER: Most skiers and snowboarders and other cold-weather recreationalists would claim that the thrill of being outdoors and schussing down hills is about sport and exhilaration and the sky and the quiet. But, of course, any ski resort worth its hot chocolate-making machine will feature a kaboodle of other happenings come December, from Santa appearances to caroling to fireside concerts to the New Year's Eve torchlight parade. Definitely all fun and festive -- hey, c'mon, Santa on skis is worth a few snapshots -- but getting back to the whole snow-sky-quiet-wind thing is also a pleasure of the new year. And if it is a weekday? Hoo boy: Things get even quieter. We didn't need to put "spoiler alert" there, did we? That weekdays are quieter than weekends at about every sporty destination on the planet? Good, good.
MAMMOTH MOUNTAIN... is included in that, of course, and while weekend skiing can be wonderful, especially when a lot of powder has dropped and you've had a stressful week you need to leave behind, a Wednesday up the hill is perfect. To help you get to that state of stress-free bliss, there's the mid-week pass, which returns on Jan. 13. Upshot? Ski for 20 weekdays, between Jan. 13 and Feb. 7, scores some discounts on local lodging, and get back to the mountain for a little wintry R&R. Oh, there are some blocked dates, but pay your $299, haul out a calendar, and pick a sizable handful. And go. Yep, holidays, we love you so, and we anticipate your return in 11 months -- 10? -- but we'll take a little mountain-style silence just about now.