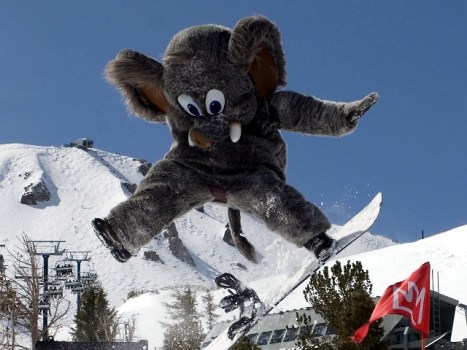 Mammoth Mountain
Will you see this guy on the Mammoth slopes?
IT'S FUNNY... How snow has a way of melting when temperatures go up. It's amazing how it happens year after year after year. Guess that trend is here to stay. Which is why when a sale comes along, in the springtime, on skiing, we take notice. Because anything involving skis that occurs on the other side of spring equinox is notable, and the discounts are probably healthy. Mammoth Mountain has such a discount on, via its 72-Hour Sale.
END DATE: Sale'll wrap on Thursday, March 24, but if you act before then, you could score a slope-close room for under a hundred bucks. Actually, way under -- $72 is the starting price. We can all agree that $72 is "way under" a hundred bucks, right? Not just a smidgen. In short, if you want your snow, go. April arrives next week, and the adage goes "April showers bring May flowers," not the much clumsier "April snows bring May, um, flowers, or, something that rhymes better with 'snows.'" See? Exactly. Doesn't flow as well. Best get details now.