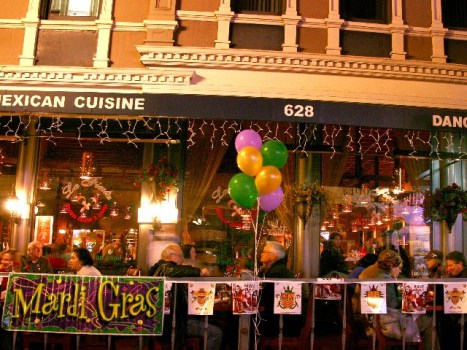 SDCVB
The Gaslamp Quarter prepares to celebrate Mardi Gras on Tuesday, March 8.
PUBLIC REVELRY: Mardi Gras is one of those fine holidays that translates well to both home and street. At home you might make a pot of gumbo, raise a glass, and lead a family-wide, around-the-dining-room-table procession. And in the street? Well. To be honest, that's Fat Tuesday's home turf. The bead throwing, the sequin-covered shimmying, the general live-large live-largeness. That is going down in New Orleans, yes, on Tuesday, March 8, but also a bit closer to home, in San Diego's Gaslamp Quarter.
GASLAMP GAS: There'll be six hours of DJing starting at 6 p.m. on March 8. Plus street performances of all sorts of spectacle-y types. And the parade, which gets going at 9:30 p.m. We admire this late hour, which feels true to the more adult nature of the holiday. Revelers might need to be in their cubicle early the next morning, that doesn't mean they can't don a few feathers and strut late into the evening.