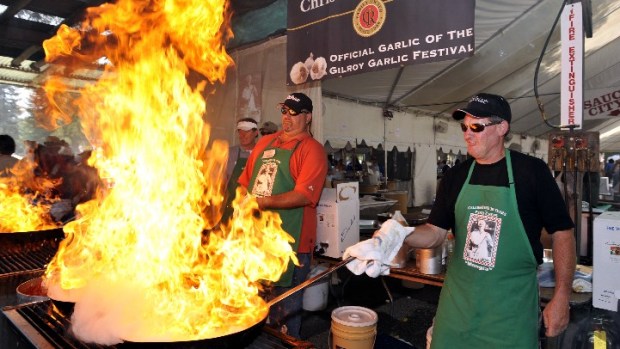 Bill Strange
The 33rd Annual Gilroy Garlic Festival fires up from Friday, July 29 through Sunday, July 31.
YEAH, IT'S HOT: If you've been to the Gilroy Garlic Festival, you know it tends to be on the hot side in a lot of different senses of the word. The foodie feast happens every late July in Gilroy, so arriving in something tank-top-ish and short-skirt-ish is advisable (you'll sunscreen those shoulders, we hope; the fest does have those beautiful trees in that one more easterly section, but bet you'll take in a lot of rays). But of course it is hot food-wise, thanks to the eat-it-up item in the name of the festival. Garlic pasta? Garlic shrimp? Garlic garlic? Yes, you'll eat it there, if you're there from Friday, July 29 through Sunday, July 31.
WE LIKE: That's there's music. That cold beer can be purchased in frosty metal mugs (those mugs feel nice when placed against a warm cheek). That there's tasty deep-fried garlic, which is nearly finishable (we hope that the deep-fried garlic makers know that is a glowing compliment of the highest order, and that we really did wolf down like 11 deep-fried cloves with gusto; we just couldn't make clove 12). If you like deep-fried stuff, and popping whole cloves, and dipping all of that edible intensity in ranch-y dressing, definitely give it a go. And the ice cream? Yes, the garlic ice cream. Deliciousness, with a bit of sting. Mmm. And our favorite like? The guy who walks the grounds while rocking a smooshy garlic suit. Must get your photo with him. Tweetable to the nth degree.