worth the drive
Mendo Magic: Bioluminescence Tours
Paddle out onto the Big River for some nighttime glow.
Wednesday, May 28, 2014 • Updated 5:11 PM PDT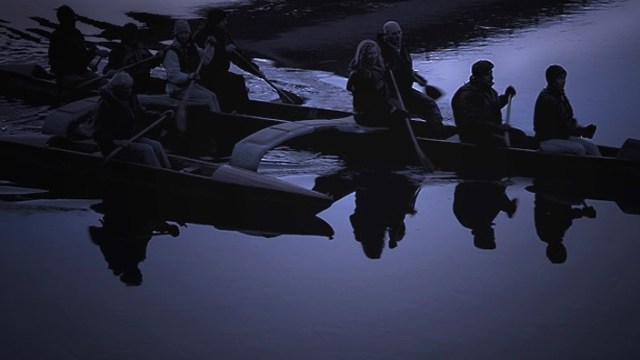 Catch-a-Canoe
Summertime means possible bioluminescence sightings on the Big River of Mendocino County. Join a Catch a Canoe tour and go in search of nighttime glow.
SUMMERTIME SPARKLE: Bioluminescence and the Golden State are no strangers, and thank goodness, too. Watery shows full of wonder pop up along our beaches and in our rivers, depending on locations and other factors, giving we humans a rather marvelous iridescent show of sorts. Nope, the tiny organisms behind the bioluminescence aren't glowing solely for our entertainment, but if we know where to look, pretty much, and when, pretty much, and we keep our fingers crossed and our eyes on the watch then we might see a rare and spectacular nature show. The Big River in Mendocino County is one of the spots where shimmery stuff can go down in the ol' H2O, and summertime is the moment. Catch a Canoe & Bicycle Tours, Too! lead excursions out onto the river at sunset, with an eye to see the "soft visible glow" of the "tiny dinoflagellate organisms" within the river (the glow is "a defense mechanism" and, yep science fans, a chemical reaction is indeed involved). You'll paddle up river at sunset, which will be glorious whether those tiny dinoflagellate organisms (that's just fun to type) make a cameo or not.
DATES AND DETAILS: As mentioned, the warmer months are primetime for Big River bioluminescence. The tours are two hours each, give or take, and the cost? Tickets start at sixty five dollars. Keep your hopes up for a darker night, because the show is easier to spot. "On a moonless night, it is usually possible to see the bow wake and all paddle strokes awash in tiny firefly-like green sparkles," reads the site. That sounds like something out of a storybook. Is this your summer to revel in some shimmery science algae action? Go Big River, evening adventurers.
Copyright NBC Owned Television Stations