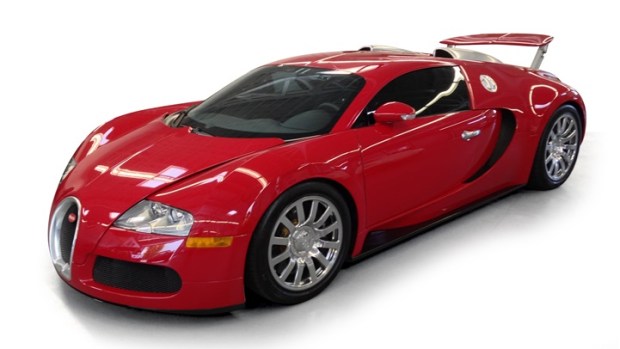 A 2008 Bugati Veyron sold for $1,078,000 at the 2013 Russo and Steele Auto Show. Want to see this year's batch of tony wheels? Make for Newport Dunes from June 18-21.
DIFFERENT KINDS OF CAR SHOWS: People who are only mildly into gleaming machines of the fast sort might say that a car show is a car show is a car show, but auto aficionados know this isn't the case. Each distinct car-themed extravaganza has its own vibe, rhythm, and goals, and particular vehicles, or types of vehicles, are apt to show over particular weekends, year in and year out. That means that while there are some shows devoted to displaying the kinds of SUVs and electric cars people will be driving in a few years, there are some spectaculars that are very much about daydreaming. Oh, that's not to say the cars at these spectaculars aren't purchased or bid on and won, and then enjoyed, but when final price tags inch into the six and even seven figures, well, yep, daydreaming and admiring is what a lot of people do who show up. Over 400 of daydream-worthy cars, many of which will be snapped up by eager bidders, will pull into Newport Dunes from Wednesday, June 18 through Saturday, June 21. It's the Russo and Steele Car Show and Auto Auction, and the vehicles associated with this event are way, way, way swank-a-fied.
2008 BUGATI VEYRON: A red Bugati Veyron, a car so flashy that all other flashy cars should turn in their flashy qualifications, sold for $1,078,000 at the 2013 show. Will one of the 400 dream machines set to show break the million-dollar mark? They'll be quite a few in the upper stratosphere, for sure. "The auction in the round" setting is described as "theatrical," which these kind of cars practically demand. Other autos sold in the past have run the glittery gamut from Porsche to Mercedes. Want to eye 'em all? You can, for twenty bucks. If you want to go to the live auction itself, as well as the cocktail party and dinner, that ticket is $150. Zoom zoom, luxury car fans, zoomity zoom.