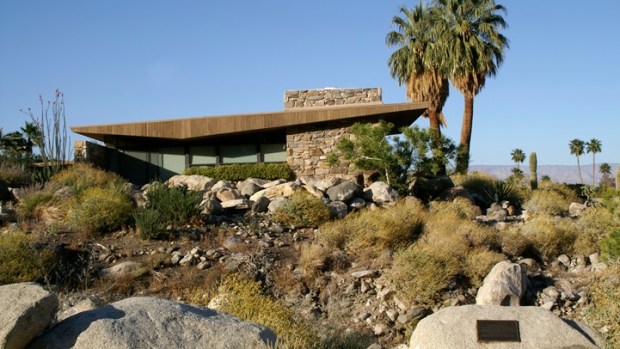 David A. Lee
Modernism Week opens in Palm Springs on Thursday, Feb. 13. Want to go? There are still a few tickets to various events available.
THE LOOK OF A TOWN: When you think of your favorite city, does it have a cohesive look or vibe? Some towns have got it, thanks to smart planning or organic luck, and other towns? Well, they're all over the map, if not literally, than in the architecture department. Manhattan is a fairly together place, what with all of those skyscrapers and right angles, and Santa Fe, too, with its soft earth palette and adobe lines. And Solvang? It's hard not to picture its petite skyline without throwing a windmill or two in, or more. But few places own pure, full-on, no-holds-even barred mid-century zazzoo like Palm Springs. Nope, not every house in the desert destination is packed with 1950s wow, but plenty are, and they're in excellent shape, thanks to local orgs and homeowners and cities and preservationists taking a care-filled interest over the years. Which makes Modernism Week, a mega party devoted to mid-century style, a real gas. It's set to roll, literally with those famous double-decker bus tours, from Feb. 13 through 23.
AND YES... there are some tickets left. Hoo goodness but tickets to this whizbang go. They go faster than the time it takes to dive into a perfect mid-century pool, practically, and that's quick. But there are some spots left at various to-dos, and, of course, the free stuff has openings. But if you want to hop into a ticketed fun thing, look at the 14th Annual Modernism Show Preview Reception on Feb. 14 (that's $95 at the door), the Never Built Palm Springs panel the next day ($15), and a Prefab Showcase and Modern Living Expo on Feb. 16 (cost is ten bucks). There's actually loads to do, if you're only thinking of going out now, so eye the roster and make your picks. Oh, and of course: The Elvis Honeymoon Hideaway is part of the action, too. Yep, no city does mid-century like Palm Springs, and few places throw architecturextravaganzas -- that's an architecture extravaganza, of course -- like the resort town.