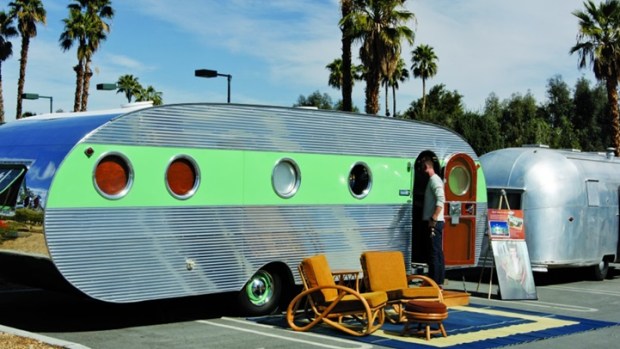 Gregg Felson
Vintage travel trailers? They're one of the eye-wowza hallmarks of Modernism Week. Be in Palm Springs in February for the whole shebang.
OLD-TIMEY ADVENTURE AWAITS: We have a theory, and it is very uncontroversial, and it goes something like this: If one moves into a house or duplex or place with a bit of driveway, and a little space, one starts to think to oneself, "hey, a vintage travel trailer might be nice, either to hit the road with or use as an offbeat hipster office." Okay, people probably don't actually think the words "offbeat hipster office" to themselves, but people with access to a little space and a love of vintage travel posters and maps do yearn for a little teardrop-shaped hit-the-road wonder of their very own. And many of those dreamers vroom out to Palm Springs each February, when some truly cherry vintage travel trailers go on display. Nope, we're not going travel-brochure-y on you when we say these are the kind of wheeled wonders that used to grace the front of maps and national park pamphlets a half century ago, when hitching such a snug sleep-inside gem to your wagon was just what you did. Tempted? Then make for Modernism Week, and the Vintage Travel Trailer Show.
TWO DAYS OF DAZZLE AND UTILITY: It's true, right? That though the little trailers do dazzle, given that many of them have space-age lines and hues, they were, and are, full of utility. This shelf folds down, this sleeper folds in, and you can have a whole life stored in a few feet of space. Admire examples of this dazzling utility at the Hilton Hotel parking lot in Palm Springs on Saturday, Feb. 22 and Sunday, Feb. 23. You'll get to check out interiors, too, and many trailers that have been "beautifully restored." Suh-weet. Booths selling stuff that relates to this fandom'll be on the grounds, too, so come with cash. Oh, and a ticket: They're $15 each, for adults. Now, we're not promising this'll take care of your longing for a '50s trailer for your own driveway. Nope, it may even increase that desire. But, boy howdy, you'll have a good time peeking around, and dreaming.