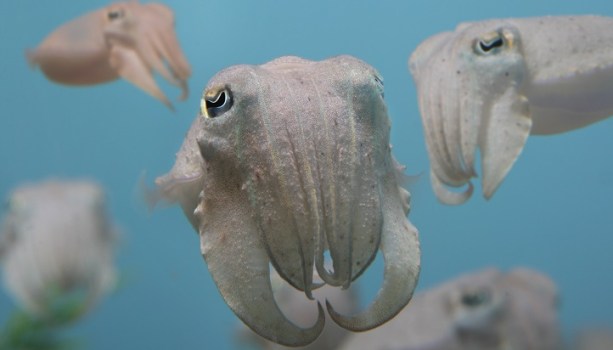 Randy Wilder/Monterey Bay Aquarium
Get to know the Juvenile pharaoh cuttlefish and more creatures at Tentacles. Want to know more? Enter to win a behind-the-scenes look at the Monterey Bay Aquarium exhibit.
BEHIND-THE-SCENES AQUARIUM: In this age, the age where all things ever are online, accessible, see-able, and knowable, there are fewer and fewer in-person experiences that carry with them a sheer sense of novelty and niftiness. Call it the "gee whiz" factor or wow-o-sity, that feeling of looking at something for the first time. Something that still delivers on goosebumps, though, or at least a feeling of something different and good, is the behind-the-scenes tour. It might be at a museum, where you can see how paintings are saved, or a zoo or a theater or a music hall. Secrets are revealed, you're right there, people in the know are standing by to answer questions. Yeah, you're jazzed, right? And you love octopuses, too, we'll assumed. (Not that being jazzed about fresh experiences and loving octopuses are connected, but we think there's a parallel.) Then best enter the Monterey Bay Aquarium's contest to venture behind the scenes of the institution's newest exhibit Tentacles: The Astounding Lives of Octopuses, Squid, and Cuttlefishes.
FIRST THINGS FIRST: You'll need to like the Monterey Bay Aquarium's Facebook page. But that's par for the course in this day and age of contest entering, yes? Then fill out the form and keep those fingers -- or tentacles -- crossed that you're the lucky person. If you win, you get to stay at the aquarium all dang day long, if you wish (and you wish, yes?) and you get a gift card to the bookstore. Where, we're expecting, you'll leave with something tentacle-y and terrific. Here's hoping that more wonder-filled places host more behind-the-scenes-y events. Some may say that all-knowing eye of the internet has all the info we need, but, c'mon. You want to see the Juvenile pharaoh cuttlefish and its suction-cupped besties up-close, right?