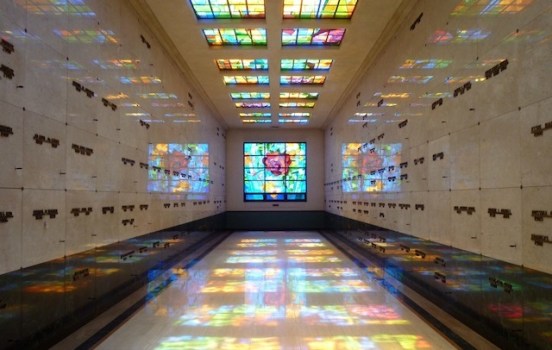 Mountain View Mausoleum
Atlas Obscura tours the Mountain View Mausoleum on Saturday, June 21.
HISTORIC CEMETERY: Southern California is often portrayed as The Region of the Future, The Place of Tomorrow, The Area Where Yesterday Is Gone. But, of course, we've had many yesterdays, which adds up to a lot of historic places, places that stretch back into the 19th century. One of the most beautiful and peaceful of all the founded-in-the-1800s spots in Southern California still stands, in Altadena, and it provides respite, solitude, and reflection for those who seek it. And, yes, sometimes some seasonal drama, too. We speak of the Mountain View Cemetery and Mausoleum, which was founded in 1882 and is still overseen by the family that opened it. Yes, it serves as the final resting place to a number of historical figures, including George Reeves, who played Superman in the 1950s. And, yes, it also has been the recent setting, come the fall, for the players of Wicked Lit to perform the plays of Poe and other ye-olde-playwrights. But beyond its ties to science, entertainment, and today's drama, the Mausoleum and its mountain-close setting offer beauty and art and the chance to explore. Atlas Obscura will do just that, on Saturday, June 21, and there are a few esoteric additions in store.
MUSIC AND MOONLIGHT: Even though the tour is unwinding on the longest day of the year, it will absolutely be a "by evening" kind of thing. Meaning arrival time isn't until 7:30, and cocktails are part of your ticket (which is $55). "The entire grounds of the mausoleum will be open for exploring!" trumpets the group's site, but you may want to make time to hear the "vintage sounds" of Hot Club LA and hobnob with Caitlin Doughty of The Order of the Good Death and The Southern California Gravers. Stained glass makers Judson Studios will also be at the cemetery, talking art and light and how to summon wonder from a colorful pane. True, this seems like an autumn sort of event, but the Mountain View, and SoCal's other historic cemeteries, exist year-round, as places of contemplation and holders of history. It's worth visiting on Summer Solstice, too.