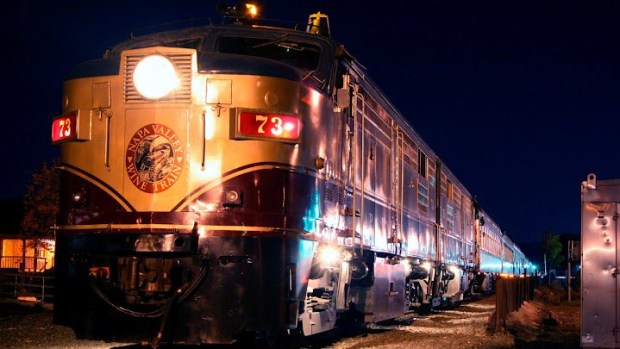 Napa Valley Wine Train
Take a tour of Grgrich Hills Estate and enjoy the Napa Valley Wine Train by night? You can, on Saturdays, and Sundays, too, starting in September.
NIGHT ON THE RAILS: If we said that there's something a bit enchanting about being on the rails after dusk, you know we wouldn't just be going for poetic license. After all, movies set on trains are all about romance and adventure at night, with people drinking from fancy glasses at tiny tables and making fabulous small talk. Of course, we're certainly not saying that can't happen during the day on a train -- it can -- but popular culture has drawn a heart around the evening and a beautiful ride along the rails. The Napa Valley Wine Train is a common daytime sight in the valley, but it, too, understands the magic of a nighttime ride; hence its Evening Winery Tour, with a tour of Grgich Hills Estate, which has been a Saturday night staple. But the railway just announced that, just in time for the busy fall season, Sunday nights will be add to the evening rides.
RAISE A GLASS: The Evening Winery Tour offers access to "the Valley's only 'after hours' winery tour,' which happens at Grgich Hills. The details are delicious and well-worth poring over when you're having a day that won't end: A "motor coach" (very 1920s wording, Napa Valley Wine Train; we like) will zip you over to Grgich. You'll have an in-depth, private look-around the winery and a tasting. Then, afterwards? The Napa Valley Wine Train will pick you up outside the winery for a four-course meal and a ride back. Please. This might be our favorite part. A train picking you up? That's eveningtime magical, in our books. There are plenty of details here, like on what to wear, and the fact that wine is extra during your meal, so study up. Heck, we read the page three times, just to get to the part where the train picks us up. Our lift. Our ride. Enchanting.