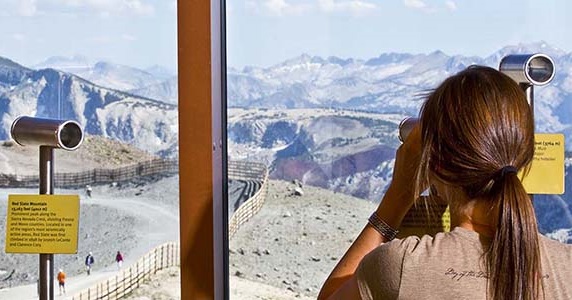 Explore Mammoth
"Explore the natural, geologic, and human history of Mammoth" at the Explore Mammoth "learning adventure." It opens over Fourth of July weekend.
A NEW "LEARNING ADVENTURE": Skiers know that a day spent on the slopes is, very often, given over to the slopes, fully. It's all about ski meeting snow, and crystal-sharp vistas, and letting go, and finding a little peace and a lot of physical exertion. True, there's the ever-present, always lively social aspect, too, but a ski weekend is very often a weekend of skiing, as it should be. But what of the chance to visit a ski destination in the summer for a different slice of things? A get-to-know-the-background kind of trip, complete with a gondola ride up the big mountain and a look at the area's geological history and its deep background? A new "learning adventure" at Mammoth is giving people a peek into a different side of the mountain, beyond the busy hub that many visitors get familiar with each winter. The adventure is called "Explore Mammoth" and it debuts, and the top of the big hill, over the Fourth of July weekend.
AREA EDUCATION: "Through a combination of guided hikes, a museum, and a movie theater, 'Explore Mammoth' will shed light on the region's explosive geological, natural, and human history." Volcanic history is considered, as well as the "unique weather patterns that produce the monster snowstorms' that has put the region on the map. And, yep, you'll get some pretty up-high, take-in-far-distances views of the Eastern Sierra. As for the price? You'll get into the learning stations and Eleven53 interpretative center when you purchase a Scenic Gondola ticket. It's a fine route to get acquainted with an area known as one of the Sierra's most bustling play places, and a nice way to spend a summer day in a higher elevation. Education, elevation, and views? Plus, plus, plus. Plus? You can brag it up, next winter, off the slopes, to your friends, people who will soon dub you a true Mammoth maven.