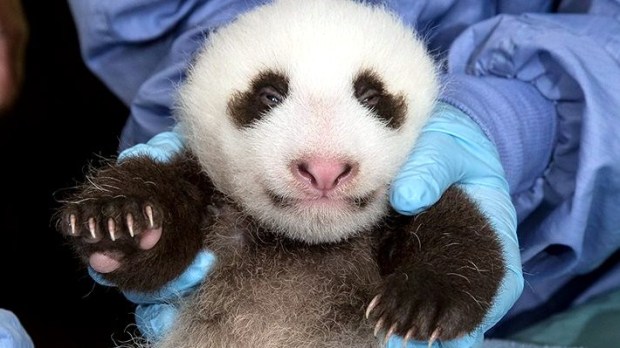 San Diego Zoo
Submit your name ideas for Bai Yun's male cub to the San Diego Zoo through Monday, Sept. 24.
NAMING TIME: The San Diego Zoo's biggest superstar this late summer is 1) not all that big and 2) pretty elusive, given the fact that visitors to the famous animal park can't actually see him. We're talking about Bai Yun's panda cub. He was born at the end of July and each of his physical exams -- five in all -- have garnered thousands of hits on youtube and the zoo's Facebook page. (They're full of the awwwws, is why.) Now the public has been weighing in on the perfect name for the cub, with voting closing on Monday, Sept. 24. Have an idea what his handle should be? You can submit it, but the zoo is also looking for an explanation as to why you've chosen that name.
A few quick facts before getting to the video: The cub is now 4.9 pounds and his eyes are open, ish, and blinky. (They were closed for several weeks, as is traditional with panda cubs.) And while cuddly cannot be quantified, that's surely something else that was much on display at his Thursday, Sept. 20 exam.