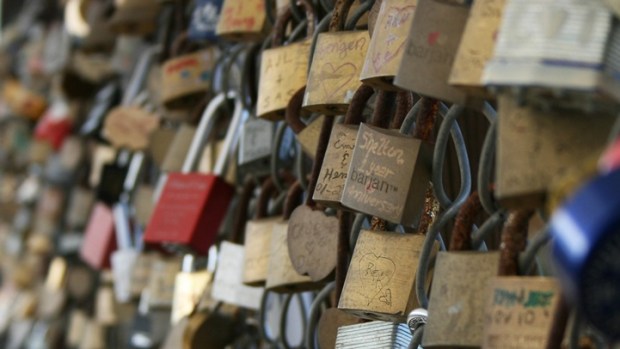 Napa Valley Wine Train
The Napa Valley Wine Train bustles come Valentine's Day. One of the biggest reasons? People adore the Love Lock Bridge.
VALENTINE'S WHIMSY: Going out for a luxe meal on the heartiest day of the year is a tried-and-true tradition. In fact, tried-and-true-ier traditions don't come along that often. And while many of us would never give up the fancy Valentine's meal out, we desire a new spin to the proceedings. Nope, we don't want our waiter to be on a unicycle -- well, we won't speak for everyone out there -- and we rather like sipping fine wine with our sweetheart and whispering loving nothings. But the spin can come before or after the meal, and it can tie in nicely, too, to the affection-focused meaning of the day. The Napa Valley Wine Train has both concepts locked up, literally. They do the posh plates oh-so-well, as you likely know, and definitely come the middle of February, which is a hot time on the wine country rails. But they also excel at whimsy, too, that different spin some crave for their holiday. We speak, of course, of the Love Lock Bridge, the little span not far from the wine train's station. "Love Lock" is a bit of a spoiler, so if you don't know what it is, from the name, we'll just go ahead and make the big reveal: Couples leave locks on fences, and throw out the key, to signify their devotion and commitment.
CUTE STUFF: It does tug the heart, actually many hearts, given that oodles of wine train-riding sweethearts have left their lock there. Napa isn't the only home to the charming phenomenon -- there's a celebrated, lock-strewn bridge in Paris -- but it does have a wine-laden train nearby, to complete the romantic day. So, are you ready for your swanky sit-down meal, on the train, with wine? And do you want something quirky in the mix, to change this year up? Make reservations, at once, for the Valentine's trains, which are running on Feb. 14, 15, and 16 in 2014, for four meals in all (including a Feb. 14 lunch). And then swing by the hardware store and buy that lock and key, with the full knowledge that you'll throw away the key, along with your honey, once you leave your hunk of metal attached to the Love Lock Bridge.