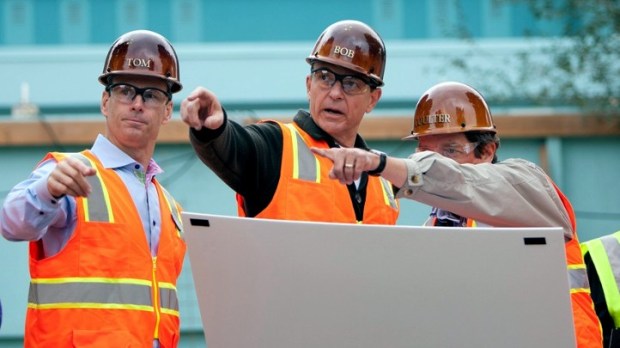 Disney Parks & Resorts
Official word has come: Buena Vista Street, the Carthay Circle Theatre, and Cars Land will debut at Disney California Adventure on Friday, June 15.
BIG NEWS: When Disney President and CEO Bob Iger dons a hard hat and comes for a tour of a new area and attraction at Disney California Adventure, you know something big is just around the corner. Mr. Iger did just that on March 6, so that the March 7 news that the new Cars Land, Buena Vista Street, and the Carthay Circle Theatre all have their official opening date was a bit expected and more than a bit welcome in various corners. Of course, a mid-June date has been bouncing around the ether for some time now, but the official, in-bold word arrived on Wednesday, March 7: The three new areas and venues will debut on Friday, June 15.
GOOD TIMING: With spring break vacations starting to break out all over, the timing couldn't be better; thoughts are turning to summer and summer trips. Certainly many people with Lightning McQueen-loving tots will plan their Anaheim stay after June 16, but we're more keen to know about the super fans who intend to be there to be one of the first to ride. Or to stroll Buena Vista Street, a period recreation of what Hollywood looked like in 1923, the year Walt Disney arrived. For more on Mr. Iger's park visit, or to follow along with all the getting-close-to-opening news, check out the Disney Parks & Resorts blog.