worth the drive
New: Evening Harbor Cruises with Island Packers
The company known for its Channel Islands runs sticks closer to shore.
Thursday, May 29, 2014 • Updated 2:14 PM PDT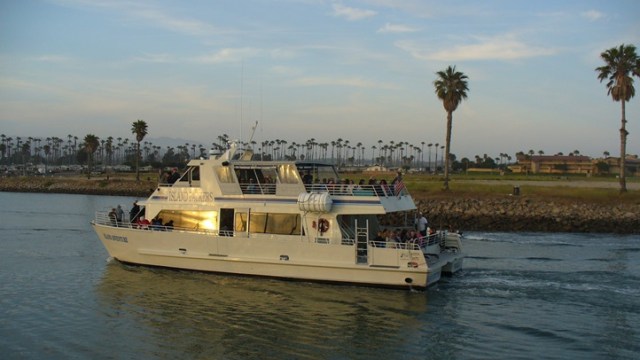 Island Packers
Island Packers, the Ventura/Oxnard fleet long associated with the Channel Islands, is introducing Saturday evening harbor cruises for the summer and fall.
SEVERAL NICE WORDS TOGETHER: So often, in this world, you'll come across a destination or outing or event or happening that tempts, in all the ways, but there's one little word that can settle in your craw and bother a little. Maybe it has to do with an especially hot month or maybe there's a type of food there you don't care for, but things aren't quite optimal. That isn't the case with the new evening cruises from Island Packers, the Ventura/Oxnard-based boat company long associated with runs out to Channel Islands National Parks. This new venture is all good words, from "evening" to "cruise" to "harbor" to "summer" to "fall" to "dinner" to "music." Oh, and "wine flights" and "beer tastings" are some of the other pretty nice words, too. In fact, just reading the words "evening harbor cruise" can settle the mind a little, if you picture yourself out on an Island Packers boat, on a summertime Saturday night, watching the sunset. Oh, Saturday nights are when the new evening cruises happen, at least over the course of summer and fall, and, yep, you'll be taking in the sights of Ventura Harbor.
OTHER TO-KNOWS: You'll be on a 64-foot power catamaran (people who don't boat too often, a question: Do you say "catamaran" enough in your lives? We know we don't). You'll need to book on a selected Saturday through the fall, and, indeed, each has a musical theme, from jazzy standards to Johnny Cash. Oh, and the food pairings are pretty specific to the evening's sounds, too. Whatever Saturday you land on, revel in the fact that you're riding with a company that's more known for heading out to the open sea -- or Santa Barbara Channel, if you prefer. Keeping it close to the harbor, for a couple of hours, is a relaxing and novel way to do up a summery weekend night, Channel Islands-style. Nope, there shan't be whale sightings, but there may be dancing and the clinking of wine glasses. That's cool, too.
Copyright NBC Owned Television Stations