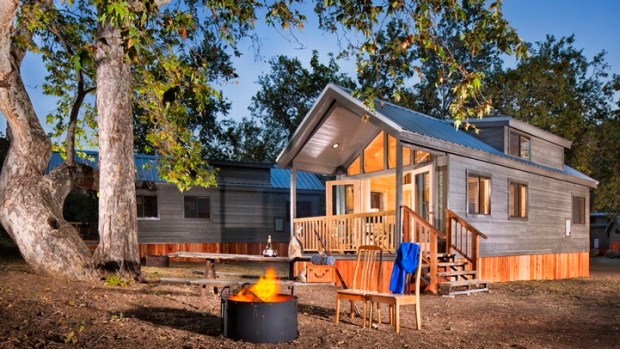 El Capitan Canyon
Thirteen corral cabins debuted at Santa Barbara's El Capitan Canyon in June.
OPTIONS OUTDOORS: If you've ever joined your pals on a spontaneous camping trip, you know it is pretty much about you and your sleeping bag and Nature, capital N. Which is cool: It's so soft and plaid and nubbily and you like it, for options for ways to spend the night outdoors don't typically abound. That is not the case at El Capitan Canyon, which has become known for approaching the art of outdoor overnight enjoyment in a myriad of offbeat and whimsical ways. There are the posh tents that have been written up in every magazine from here to the furthest place from here, and the gorgeous yurts. The cedar cabins, too, get the love, as do the make-your-own-s'mores kits and the on-property llamas and the whole feeling of being one with nature but also having one's own private little slice of privatedom (not to be undervalued for the adventurer who wants to be very adjacent to the al fresco world but perhaps not in the middle of it). Now the Santa Barbara property has something new for the summer of '14, though, like other structures around the bucolic space, the new things fit snugly in, like a corral cabin next to a creek. Oh, did we just tip our hand there?
WE DID: El Capitan Canyon opened thirteen Corral Cabins in June. The "contemporary rustic" buildings are slightly set apart from the Safari Tents and yurts and Cedar Cabins, lending a little bit more quietude (though that abounds throughout the grounds). The cabins include separate living areas, and fireplaces and kitchenettes with full fridges. There are bathrooms, too, and Western decor to hee-yaw over (the cabins' name hails from a corral which was once in the area). If you stay in these luxe-y, larger spaces, you still have a crack at the gratis El Capitan bikes and the other good things the property offers (like the summer activities -- hello hikes, yoga, stargazing...). Want to know more? Grab your hiking stick and wend your way over here.