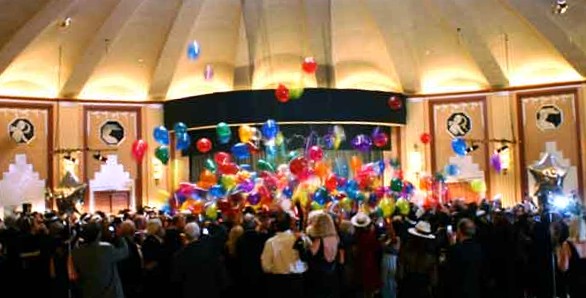 Catalina Island
This is how Catalina Island does New Year's Eve.
SAND AND STYLE: "Black-tie optional"? Those words don't show up on nearly enough invitations these days. (Look, we like the words "come as you are, too," but once and awhile dressing up and acting fancy is not a bad thing.) And we're still very happy to see those words on announcements about one of the more traditional New Year's Eve parties in the Golden State. Here are a few hints: Pacific, island, Casino, '20s, balloons, ferries, buffalo. Oh, wait, the buffalo gave it away, right? Oh darn. We'd tried to play it subtle. We're talking about the Catalina Island Casino's big New Year's Eve party, which has, let's be honest, just about the grandest views of any NYE bash in the state. And yep, it is just ahead on Saturday, Dec. 31.
BLACK-TIE OR NO: Even if you come slightly dressed-down -- maybe you're wearing sequins rather than rhinestones -- you'll still get to dance to a tuxedo'd orchestra and welcome 2012 under a traditional balloon drop (those are sadly hard to find nowadays). Plus there's a buffet and Champagne and other NYE-y touchstones. But, again, walking on the balcony of the Casino, and seeing Avalon and the Pacific beyond? It really is like being in a '40s movie. You'll have a lot of parties ahead where you can sit on a couch or watch television or stare at photos on a wall, but few big celebrations come around that involve black-tie and stunning, world-class vistas. Which just saying that saying hello to the new year at the Casino Building might set the tone for what's ahead.