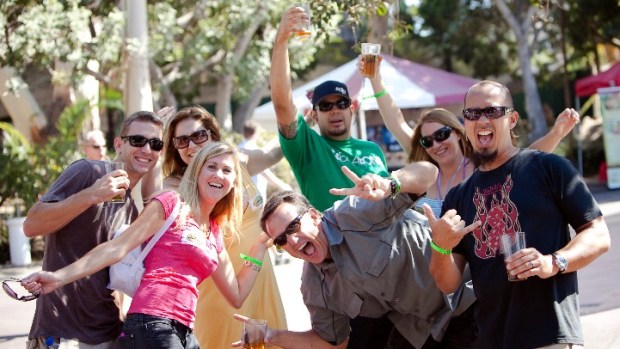 OC Brew Ha Ha
The OC Brew Ha Ha raises a glass on Saturday, Sept. 8 in Oak Canyon Park.
SEPTEMBER SUDS: Usually we anticipate the fall beer events for the very reason that they are in fall. After all, autumn and an amber libation go together as well as a season and a beverage can. But given our early August heat 'round SoCal, we're rather wishing the OC Brew Ha Ha was happening, oh, right about now. That it is also Monday makes this wish a rather empty one, and that the foam-focused fundraiser is already scheduled for Saturday, Sept. 8 means we should just concentrate on that. And so we shall, with a little daydreaming mixed in: Picture a rustic-nice day in a Silverado Canyon park, just ahead of the official start of fall, selecting and sampling brews from over 70 breweries. And now picture the money you've spent to do so going to help the Fallen Firefighters Relief Fund, in memory of 9/11. Oh, and picture this: Your brew-pourers for the day will be, in large part, "off-duty Orange County Firefighters." Nice, right?
MORE GREATNESS: We mentioned the 70+ breweries but that doesn't mean there will only be 70 beers or so. (We know, we should have put "only" in quotes there.) There will be over 175 choices, so this is one event you may want to study up on before heading out; you do know there are people out there who read up on their hops and barleys and craft beers, right? Cost is forty bucks and that nets you ten 4-ounce samples. There'll be food trucks around, too, to keep you feeling full, so arrive with cash for those. Oh, and the Irvine-close setting? It is pretty, especially when fall starts to poke its head in. Hope for a cooler day than the ones we are in, but, even if it isn't, you'll have 175+ brews to cool you down, and some delightful firefighters to kindly hand them to you.