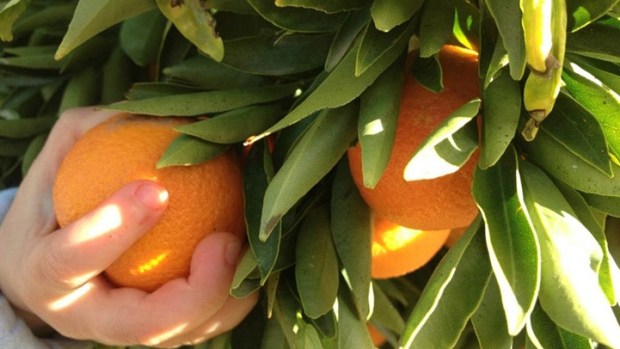 Friend's Ranch
Stroll through an Ojai orchard and learn the ins and outs of growing succulent citrus.
THAT SUNNY SYMBOL: There are award shows for practically everything, though we're fairly sure that shiny statues aren't annually given out to those animals and places and flowers and ideas that best symbolize the Golden State. Nope, we're not talking about the official state cookie or official state song, as interesting and charming though those might be. We're talking about those objects and things that can nearly stand in for the concept of California itself, and much of what it means. A redwood could probably be up for such an award, and a beach, but we'd also suggest that an orange get some honor in the represents-our-state-well category. Yep, Florida also has citrus cred, but there's enough to go around. Because when you can stroll into a California orchard on the first day of February, and eat tangerines, and learn all about how citrus-growing trees are tended to and cared for, well. Oranges are your regional thing. We didn't pull Feb. 1 out of a bag there, randomly, by the by. Friend's Ranch in Ojai will kick off its seasonal tours on that date, which translates into a fresh winter morning among branches heavy with fruit. Sweet, literally.
DATES AND DETAILS: The Friend's Ranch orchard tours run every so often through April 19. There's a tour the day after Feb. 14 billed as a post-Valentine's treat, and the Pixies'll be the stars in March, when they start to show. Regardless of when you show, you'll learn all about the history of the place, the packing house and farm, and what goes into running a decades-old citrus-famous outfit. Adult admissions are twelve bucks, kids a bit less (price varies by age), and, yep, you'll get to try a lot of fruit along the tour for that price. We know, we know; there's so much snow elsewhere that the idea of basking in some sunshine with one of California's beloved symbols in hand doesn't seem quite right. Or does it? Surely we must enjoy the fruits -- quite literally -- of the bountiful place we call home.