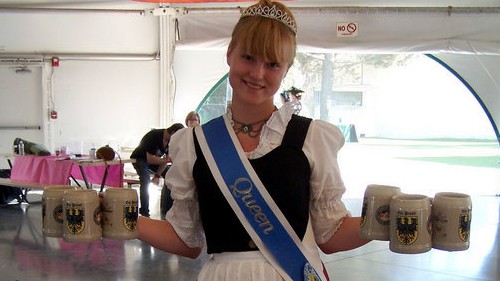 The Phoenix Club's Oktoberfest opens on Friday, Sept. 17.
OOMPAH DAYS: So you've done Old World Village in Huntington Beach. (How'd your dachshund do? Did he win at the races?) And you've danced the night away at Alpine Village in Torrance. Now you're ready for the roll-out of the third big Oktoberfest party in the area. It's at the Phoenix Club in Anaheim, and the yearly to-do is a big draw for both revelers and German bands as well. The party gets going on Friday, Sept. 16, and the entertainment roster is cracking good.
UP AHEAD: The Blue Birds, The Express Band, and Froschhaxn Express (times and weekends will vary, so if you want to see a particular act, be sure to check the schedule). There's also a family vibe, complete with a petting zoo and bounce house. And opening weekend? Free admission. Beer and sausages and all the eats'll be extra, of course, but saving that get-in price? Cause for celebration indeed. And figure you'll be there the very weekend the most famous Oktoberfest in the world opens in Munich. Cheers!