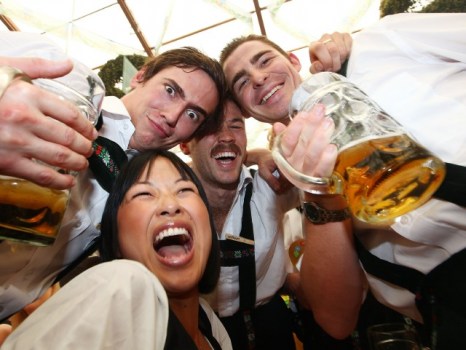 Getty Images
The Old World Village Oktoberfest opens in Huntington Beach on Sunday, Sept. 9.
SEPTEMBER SUDS: One of the memorable visuals of any Oktoberfest celebrations is when a long line of foam-topped steins line a long wooden table; that's practically the poster for the annual fall celebration (which, contrary to its name, is more associated with the month just prior to October). That image, though, can be applied to the larger idea of Oktoberfest itself, at least in Southern California. There are so many good-sized fests 'round these parts that we almost picture them, lined up, one after the other. And the first one at the end of that long table? It's almost invariably Old World Village in Huntington Beach. Old World's Oktoberfest is known way beyond its beachy borders, and so it should be; it turns 35 this year. And the 35th celebrations'll be sudsing up the Tyrolean setting for another season starting on Sunday, Sept. 9
ALL THE FESTIVITIES: The party runs through Oct. 28 and it is festooned with all the classic touches: oompah bands, brass bands, all the German beers (Hofsbrau to Bitburger to Erdinger) to Sunday happenings like Kinderfest and the oh-so-popular dachshund races. It's best to keep up with Old World in case you want to attend for a specific event. We'll recommend the afternoon of opening day, Sept. 9. No doubt about it, it'll be crowded by proceeds help the Therapeutic Riding Center of Huntington Beach. Old World Village is closed on Mondays, so save your Oktoberfesting for another day of the week.