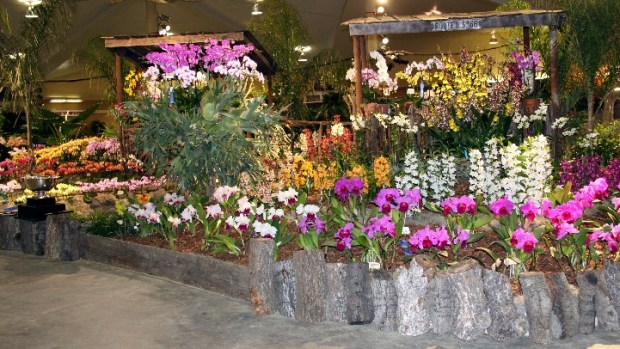 Arthur Pinkers
The 69th Santa Barbara International Orchid Show is in full bloom over the middle weekend of March.
THERE ARE FLOWERS... that we stroll by, pleasantly, without a second or even first glance. They're just there, along a fence or median, being purple or yellow or pink and full of petals. They're nice, is what we're saying, and they add to the general beauty of the outdoors and the bring the spirit of nature to a neighbor's yard or an empty lot or a patch of dirt off a parking area. And then there are flowers that are so ka-bam, so noticeable, so instantly attention-drawing that one has to stop strolling and whistling or whatever else one was doing and observe the bud in question. And the ka-bam-iest flowers of all? Roses, you're up there, for sure, but we have to give it over to the orchid. It's the rarity of some specimens that up the wow factor, the strangeness and elegance of form, the orchid's somewhat haunting and haughty mien. It's no wonder that songs and books and documentaries have been built around this small and legendary bud, nor that the Santa Barbara International Orchid Show is just a year off its 70th birthday. The just-shy-of-springtime spectacular is, in fact, "the longest running orchid show in the nation," and it will be back at the Earl Warren Showgrounds from Friday, March 14 through Sunday, March 16.
DISPLAYS APLENTY: If one orchid is pretty pow-packing, picture many all in a snug space, for your viewing pleasure. All sorts of examples of the ethereal bud'll be on show, but there'll be many, many flowers for sale, too. Plus? Demos, expert chitchat, a corsage exhibition, arranging info, and everything to do with the mysterious flora. Orchid people are incredibly engaged with the beautiful plant, and they bring that sense of engagement to this three-day gathering, both in terms of knowledge shared and new flowering friendships. Oh, yes, and a few orchids go home with the attendees. Tempted, orchidian? A day's general admission is twelve bucks.