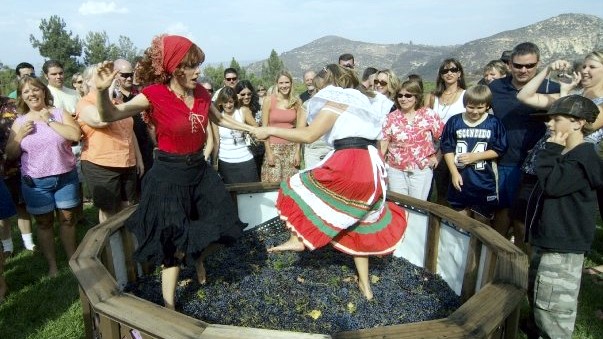 Orfila Winery
Orfila Winery in Escondido hosts a grape stomp on Saturday, Aug. 27.
GRAPE GOOSH: Okay. The shreds of grape skins at the bottom of the barrel. The ones that are left after a really good and vigorous stomp. What are those called? Grape Goosh? We think Ben & Jerry's should come out with a Grape Goosh flavor. It might be for the over 21+ set, seeing how Grape Goosh is related to wine production, but we can already see the fanciful, purple-laden carton. Even if that'll never happen, we can still enjoy watching the gooshing of grapes, or participating, on occasion, ourselves. People sans shoes but with a lust for adventure will be doing just that at Orfila Winery in Escondido on Saturday, Aug. 27.
THE DETAILS: You won't only be called upon to smoosh fruit. You'll be able to taste wine, you'll listen to jazzy musical sounds, you'll ride on a tractor. Tractor rides! Great wows. Fall must really be right around the proverbial corner. The cost is $85 and time is 4 to 8 p.m. If you are planning on grape gooshing, we hope you'll go the kerchief-skirt-blouse route. If Lucy and Ethel did it, we all can.