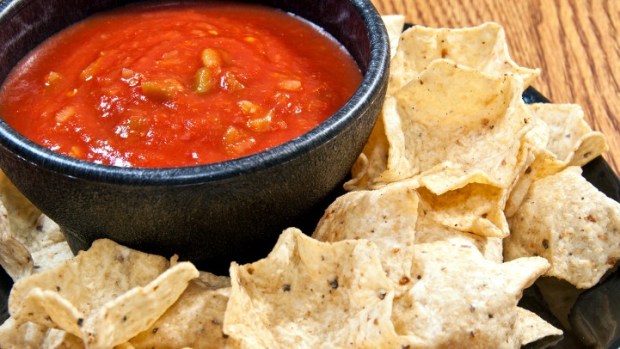 Shutterstock
The Oxnard Salsa Festival dips the chip on Saturday, July 28 and Sunday, July 29.
SPICY TIMES: It just so happens that Oxnard's annual salsa jamboree falls on the very weekend of one of our state's other piquant parties, the Gilroy Garlic Festival. Yep, it's a half day's drive between the two cities, but if we could do some sort of meal-based mash-up between the two, we would be happy. Because our salsa? It has gotta have garlic above anything else. What do you put in yours? Tomatoes, cilantro, onions, what? That's kind of the beautiful thing about the dish, though; it can and does contain just about whatever the person making it wants it to, in any amount, and you're nearly guaranteed it will taste pretty good. Even Oxnard's other big food weekend -- that would the California Strawberry Festival, which happens every May -- would fit well with the salsa party. Strawberry salsa? You've had it, on fish, or maybe just with chips. It works. If this is all whetting your appetite, then we'll stop chopping and dicing and put the bowl on the table: The Oxnard Salsa Festival rolls on Saturday, July 28 and Sunday, July 29.
MORE THAN EATING: The best bit about this particular party, though, is it is also about salsa dancing. Very much so, in fact, which makes it a stand-out; so few food-based festivals can claim two meanings to their name (sorry, garlic -- you just mean garlic, the food). A huge dance floor is at the heart of the festival, and people'll pretty much be swaying on it throughout the festival. And beyond the salsa (food) samplings and the salsa (dance) grooves? There's a 5K and a cooking competition and vendors aplenty. You know you're driving home with a bunch of jars of gourmet salsa, right? We're just guessing. Nope, nothing may ever top your own special combination, but that's one of the pleasures of salsa; you can spend a lifetime tasting what others' like and never hit the exact same flavor twice.