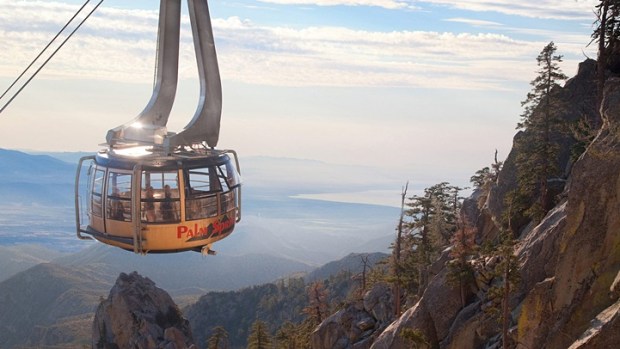 Palm Springs Aerial Tramway
Buy a Summer Pass on the Palm Springs Aerial Tramway and get up the mountain often during those triple-digit hot hot hot days.
SUMMER SWEAT: If you've ever been in Palm Springs in the middle of July, you've likely been familiar with the concept of perspiration. Yep, the city brims with marvelous misting devices and glimmery swimming pools and rooms so air-conditioned you'd think that Frosty the Snowman himself was manning the temperature controls. (Or would that be "snowmanning"?) But at some point you have to go outside, often in the afternoon, often when it is 103, 104 degrees out, and, yep, those ol' beads of perspiration make their summertime cameo. There is a novel way to address this, beyond the restaurant misters and swimming pools, and it is changing elevation, and changing it rather quickly. In the desert resorts area, that means one thing: The Palm Springs Aerial Tramway. This '60s-cool marvel of engineering zips riders from the desert basin up the side of San Jacinto in mere minutes, where a "14,000-acre pristine forest" awaits. It's pretty darn alpine-y, and a bit discombobulating, to go from cacti to pine in under the time it takes to watch a sitcom. But the tram is famously straight up -- or steep, more accurate -- meaning you pass a lot of zones in a short span of time. Want to keep the tram in your summer cool-off quiver, desert dwellers? The annual summer pass is now here.
WHAT THAT MEANS: Pass holders may ride the tram any time between May 1 and the end of August. Price? It's 70 bucks for adults, and that includes unlimited rides and a 10% discount at the Pine Cafe and Peaks Restaurant at the top (that's the one that boasts the view of all of Palm Springs and beyond). It's a novel way to cool down, and one that requires a few hours, but the pace of Palm Springs slows down a bit in the summer, anyway. Will you ever go back to misters and air-conditioning, once you've let Mother Nature and elevation cool you off? Well, probably, but the idea of an inexpensive mountain getaway, in the sizzle of summer, is a good one.