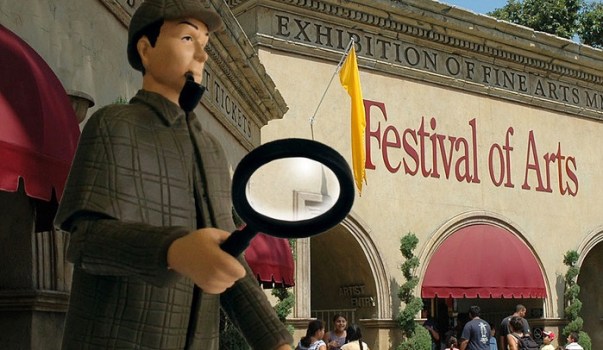 Pageant of the Masters
Dig art history and art heists? And are you mad about Pageant of the Masters? The Laguna Beach stalwart has a compelling and clue-filled social media sweepstakes afoot.
GOT THE CHOPS? Sherlock Holmes is more popular than ever -- thank you, BBC series and big-budget films and comic books and strong fan communities -- but it isn't very often that we get to do a bit of sleuthing, all in the name of art and ideas and a bit of good fun. Oh, and to nab seats for a summertime favorite, Laguna Beach's own Pageant of the Masters. Eager to know the case? You're invited to play Watson -- yep, you'll be assisting Mr. Holmes -- via the Pageant's Facebook, Instagram, and Twitter pages for a month-long period. Why yes, the theme of the 2014 Pageant is indeed "The Art Detective," which means Pageant fans will answer riddles and trivia questions "and earn extra points by sharing The Art Detective's posts." Those riddles and questions shall relate to "art history and heists," so if you're a bit of a know-it-all in the department of people pinching priceless works of art, and how those works were tracked down and returned to museums (if they indeed were), then best put on your Sherlock coat and hat. (Yes, it is summer in Southern California, so we mean your proverbial hat and coat, of course.)
WHERE IT IS ALL HEADING... "The last few posts will lead up to a heist on the Festival grounds, pointing to one of the Festival's presenting artists "stealing" a Vermeer painting." You have to be over 21 to participate, and you should be free on Aug. 23, as that's the night the winner will get VIP access to the Celebrity Benefit Concert and Pageant Event (which includes Four Loge Center seating and dinner for four at Tivoli Terrace). So, got it, Watson? Assist The Art Detective with art history and heist clues and riddles and maybe "steal" -- yeah, we said it -- a nice night out at the world-famous Pageant of the Masters in late August. The social media sweepstakes opened on June 6 and runs for a month, so hop to it, lovers of clues.