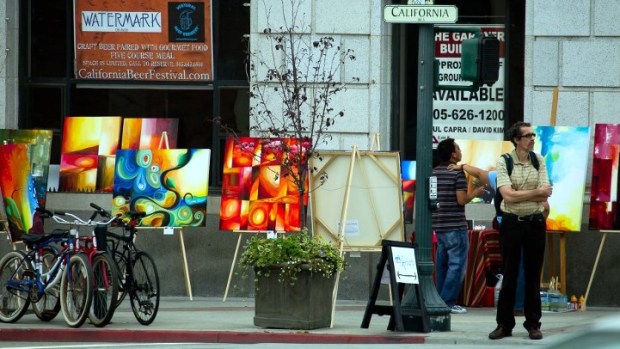 Paint Ventura
Artists will take to the city streets during Paint Ventura. It's happening over the final weekend of April 2012.
ART FAIR: What are the hallmarks of an excellent art fair? Oh, maybe fine weather is key. And lots of booths with artists selling landscapes and portraits. The occasional crafts corner, where people can watch a woman throwing pots. And a few food booths to boot. Rarer is the art fair where you're invited to come and paint, if you like. Paint Ventura, and specifically Paint Ventura's Paint Out, is just that rare bird. Yes, there is art competition and art for sale, but one of the more famous parts of the four-day festival is the plein-air Paint Out. The short of it? Artists set their easels and canvases up around Ventura and start painting what they see. The Paint Out, if you're keen to participate or observe, goes down on Thursday, April 26 and Friday, April 27; you'll have Saturday, April 28 to wrap up what you've been working on.
A FEW TO-KNOWS: You'll need to register ahead of time if you want to paint. If you just want to come, look, stroll, and maybe buy, you can do that, too; the main art fair is on April 28 while the Easel Show and Best of Show Judging happens on Sunday, April 29. However you get involved, figure it will be a really fine sea-breezy weekend -- if this weather holds out -- and the site of lots of easels and people summoning beachy scenes via watercolors is a lovely one. Get your info, painters and lovers of painters.