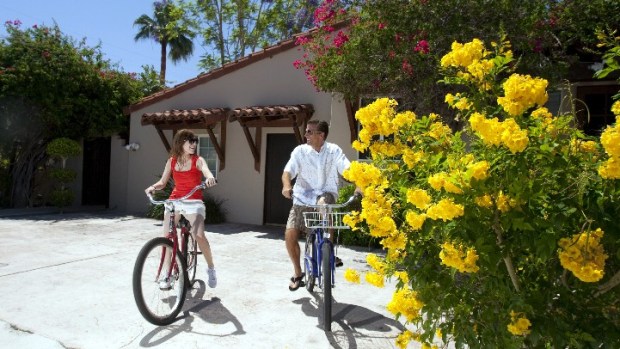 Palm Springs
Palm Springs is offering plenty of stay-over deals during Carmageddon II. That's happening the final weekend of September 2012.
CARMA-TRAVEL: We saw it the first Carmageddon go-around and it has returned in a bigger way than before: the travel-related Carmageddon deal. And while we don't wish freeway-based inconveniences on anybody, we do wish that these weekends where whole resort towns look to Los Angeles and, in unison, cheer "come see us for deals, road-avoiding Angelenos!" would happen more often. Alas, they'll likely be tied to major events such as Carmageddon II, which is set to shut down several miles of the 405 freeway north of the 10 on Saturday, Sept. 29 and Sunday, Sept. 30. Santa Barbara Car Free has some good stuff going, including an Amtrak discount, and now the desert resorts are in the discount-giving game as well. Hooray! Feeling Palm Springs, 405-avoider? Best read on.
ALOHA HOTEL TO VILLAS: A number of properties in the P.S. area'll be doing it up for LA people over the final weekend of September. The Aloha Hotel is offering rooms for $40.50 a night -- stare at that number for a few seconds if you haven't gotten it yet -- and you only need mention the "Carmageddon II Deal" when you phone. (The deal also has the catchy title "Comegedaroom 405"; nice, Ace Hotel, nice). The Desert Vacation Villas have a two-nighter on, and the Palm Canyon Inn's special is actually just called Carmageddon, as is the Thirteen Palms. There is a wide variety of participating properties and deals -- some are get a third night free, some are deals on your one-and-only night -- so eye the whole list. Think some folks who aren't from LA'll enjoy these discounts, too? You can bet on it. With that in mind, you are welcome, other people not from LA. Carmageddon may be ours, but Carmageddon deals belong to the world.