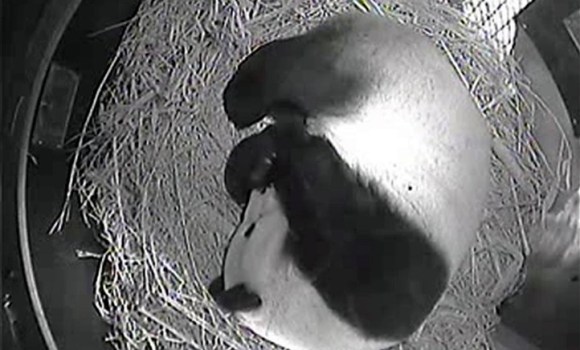 San Diego Zoo
"Bai Yun cradling her newborn in her den," says a San Diego Zoo caption for this Facebook photo. The baby was born on Sunday, July 29.
CUB CAM: It's been a major week at the San Diego Zoo, and for panda watchers the world 'round. Bai Yun, the nearly 21-year-old panda who has been a zoo resident for a decade and a half, was set to give birth. Ultrasounds were posted on the zoo's Facebook page and supporters vowed to keep an eye on the institution's famous Panda Cam. Then came the happy news, at last, on Sunday, July 29: Bai Yun had given birth to the "sixth panda born at the zoo." This is especially good news, as this was "considered a high-risk pregnancy due to Bai Yun's age. If a cub is born, Bai Yun will be one of the oldest giant pandas known to give birth."
A cub has been born and the flurry of photos and videos has now begun. There are photos of Bai Yun in her den and of zoo staff keeping watch. And brand-new video of the mom herself. For more information on Bai Yun and all the San Diego Zoo pandas, you can follow the popular Panda Cam at the zoo site.