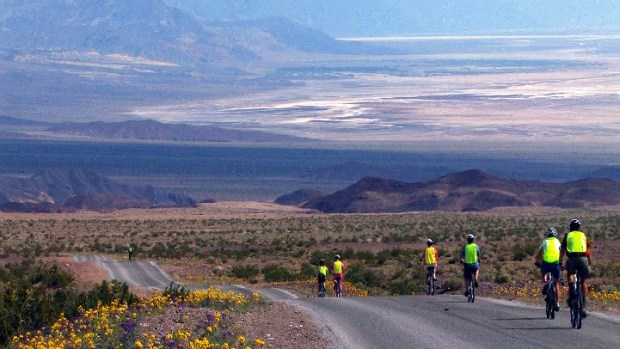 Xanterra Parks & Resorts
There are a variety of cycle-nice ways to get around Death Valley National Park.
HOTTEST, DRIEST, LOWEST: Those are the three words that open a certain National Park's page. Everyone knows what the park is when they read those three words -- and, hi, the park's name is in the headline of this post -- which is kind of great. Figure there must be other locations that wish they could be so handily summarized by three such succinct words. But when you're one of the hottest and the driest and the lowest places on earth, getting around can be challenging. And wonderful, too. Which is one reason you see so many cyclists cruising around Death Valley; it is simply a superior way to take in the scrubby, sharply drawn landscape, as opposed to sitting before a dashboard pumping cold air. If you feel up for the challenge, and you want the thrill of tooling around an ancient sea bed, read on.
FURNACE CREEK WHEELS: The Ranch at Furnace Creek -- or rather the General Store at the Ranch, which is like one of our favorite stores on the planet, if you'll forgive the overexcited hyperbole -- offers bike rentals. You'll want to make sure you're up to whatever path you choose (the word "unforgiving" often appears in Death Valley descriptions for a reason) and check the National Park Service site for routes and tips. There are also a couple of bike adventure stay-over packages available through the Ranch (as opposed to the Inn). But these won't be around forever; come summer in the valley, the bike opportunities pedal away (hearty types can still bike, but there are stern admonitions about cycling in the mid-day sun). Whatever your biking/hiking/hanging around the pool pleasure might be, best get on it; winter is Death Valley's prime season. And, just ahead? Glorious desert wildflowers, if the rains have been kind.