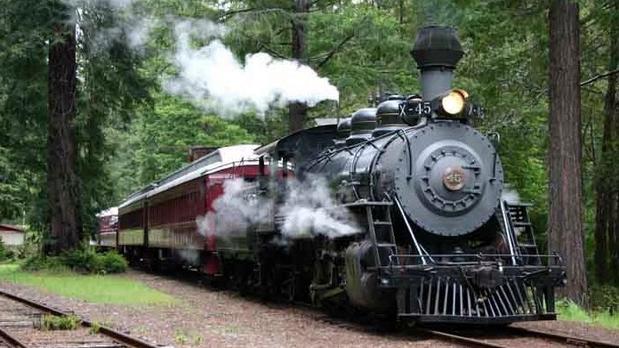 Skunk Train
Snap and click: The Skunk Train holds a Photographer's Special on Sunday, June 8.
IT WILL BE A FINE TURN OF EVENTS... when all of California's historic locations and cultural institutions and outdoor landmarks set aside one morning or evening of the year as "Photographer's Day." We speak of the full day, or few hours of a day, set aside to welcome shutterbugs, both professional and just-starting-out, to snap the sights of a location in a more studied and unhurried manner. That might mean an animal park staying open past 5 p.m., which translates into fewer crowds and interesting sunlight for the person wielding a camera. It might mean opening early, to catch the first rays, as Bodie State Historic Park has done before during its own Photographer's Day. And it might mean welcoming photographers to get a little up-close with the sharks and rays, as Long Beach's Aquarium of the Pacific has welcomed photographers to do. But what do you do when what you're famous for is very much on the move? We speak here of the historic Skunk Train, one of the handsomest trains in the West. If you're snapping a picture of Skunky, from the side of the rails, you know you only have a few seconds before it chugs away. Except when the...
PHOTOGRAPHER'S SPECIAL... rolls into Skunk Train Land. That's the day when all train-lovin' picture takers may venture to Fort Bragg for some quality lens-focused time with a truly picturesque engine and railcars that go way, way back. "Staged photo run-bys" are a part of the special June 8 event, as is a barbecue lunch up at Northspur. (Very rustic, very ye olde California, very relaxing, so you'll have plenty of time to talk equipment with new photo-mad friends over the meal.) Cost? Ninety nine bucks, and the day starts early: 8 a.m. Yep, we bet you'll get some pretty light to capture the Skunkster and its steamy ways by. Happy framing, snapshotters.