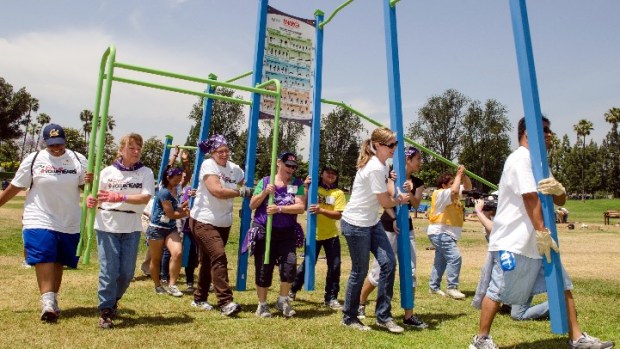 City of Anaheim
The new playground at Anaheim's Stoddard Park came together in a matter of hours on Saturday, May 12 via the hard work of hundreds of volunteers.
A QUESTION: How long does it take to build a playground? Can it take a year? A decade? Does it come together over many years as parents and visitors decide a slide might be nice, or a sandbox? Or can a traditional playground come together over a course a single day? We'll wager that that final choice happens less frequently, but, when it does, it is very often a major event requiring the brawn and brains of hundreds of volunteer. So let's pause here to salute the brawn and brains and good cheer of the 200+ volunteers that headed out to Stoddard Park in Anaheim on Saturday, May 12 with one goal in mind: Build an entire playground before the day was over.
HOW IT HAPPENED: Back in March some local Anaheim youngsters met with planners on how the new playground should look (we love when kids get consulted on these sorts of things). The design was hatched and the build day was picked: May 12. Then City of Anaheim, the Anaheim YMCA, Disney, and KaBOOM! rounded up a bunch of up-and-at-'em volunteers for the carrying and hauling and hammering and placing. This story is sweet for a few reasons. One? Children's drawings helped inform the final look of the playground. Two? Anaheim and its environs are famed for theme parks; we like seeing a free spot families can visit that happens to be close to those parks (and let's high-five Disney for being a backer of the Stoddard playground). And three? The new playground is part of a larger initiative that wants to place "a great place to play" within walking distance of every child's home. C'mon. That is fantastic and something everyone can support.