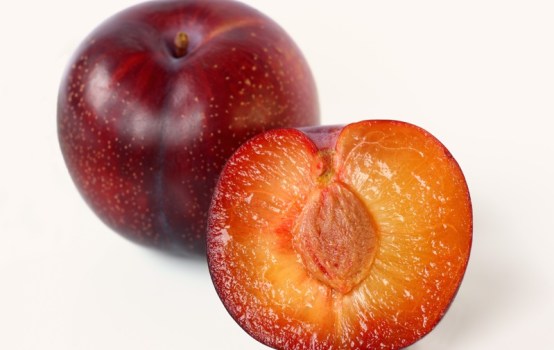 Getty Images
The pretty plum gets its day at Old World on Sunday, Aug. 24.
STONE FRUIT CELEBRATION: It can seem as if certain healthy foodstuffs get several parties around California each year, and that's because a number of edibles absolutely do. Strawberries are one celebrity of the produce section -- the bashes in Garden Grove and Oxnard fall within weeks of each other, each spring -- and the avocado? It holds court come the fall in Carpinteria and again in Fallbrook in the spring. But just about every fruit deserves its day in the spotlight, or, more likely, the pie pan and cookie sheet, even if it doesn't have the far reach of having multiple out-sized festivals each year. Meet the plum, that sweet stone fruit, a juicy little orb that has a knack for unseriousing-up the blandest of baked goods. It, too, has its annual party, but not at an outdoor park or on a main street. Rather, it lands at Old World Huntington Village, right around the time that one expects to see Oktoberfest starting to set out the steins. But the oompahing is still a few weeks away and the purple-skinned tart-tasting favorite shall be the sweet centerpiece on Sunday, Aug. 24.
PLUM FESTIVAL: "Bring Your Favorite Prepared Plum Recipe" for a shot at three prizes, eat plum cake and plum crepes -- ohhhhhh yeah, plum crepes, where have you been all of our lives? -- and stick around for the Weiner Dog races at 3 p.m. Nope, Dachshunds and plums don't have too much in common, but the wee pups are Old World staples, and no celebration feels complete without seeing them scurry as fast as they can, for glory, kisses, and treats. And a German-American brass band'll be in the house, just in case you need to start building that Oktoberfest excitement. Feeling it, plum people? Let the other yummy fruits have their various weekend starring roles: The plum's day is nigh.