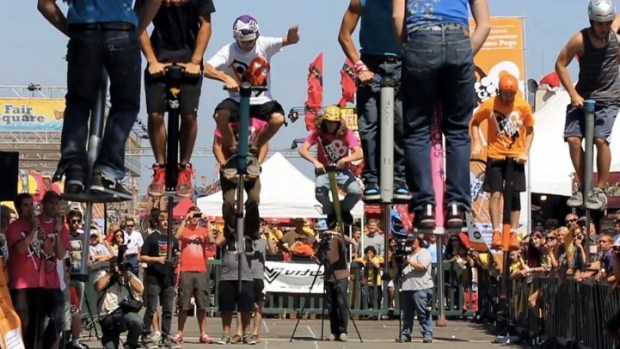 Pogopalooza
Pogopalooza bounces back into the OC Fair from Thursday, July 26 through Saturday, July 28.
SKILLS AND BOUNCES: When's the last time you were on a pogo stick? Were you six, maybe seven? Were you good at pogoing? (Now that is a rather fun word to type.) Did you ever imagine that the act of bouncing repeatedly on your concrete driveway could evolve into an extreme sport where participants would get the pogo up as high as nine feet off the ground? We think we might have cleared six inches on our most energetic day. But now Pogopalooza, which will be bouncing high at the OC Fair, has given the pogo stick a whole spin. No longer is the bounciest of toys relegated to the backyard; rather, athletes flip their sticks, circle' em between their knees, and make big, breathtaking leaps. It's an art form now, in fact, the pogo stick. Curious to see some of the masters in action? Get to Costa Mesa from Thursday, July 26 through Saturday, July 28.
THE BIG CHAMPIONSHIPS: The OC Fair happening is the "9th Annual World Championships of Extreme Pogo." So if you're longing to see the best people at this particularly quirky but definitely high-powered sport, be at the fair. Here's a preview. Seriously, how hard must it be to practice some of these moves? The feet tingle.