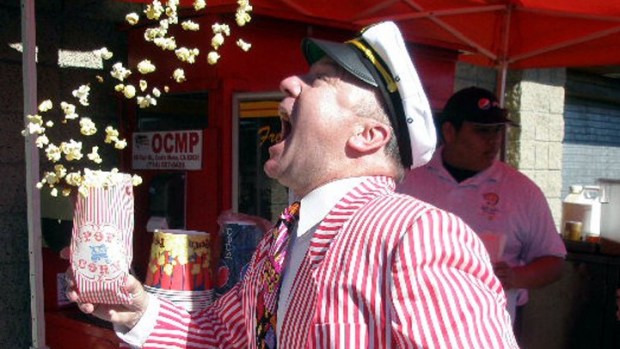 OC Marketplace
The OC Marketplace turns National Popcorn Day into a full-on Popcorn Weekend on Saturday, Jan. 21 and Sunday, Jan. 22.
A RIDDLE: Which do you think is the higher number: grains of sands on the California's beaches or kernels of popcorn popped in Southern California's movie houses since the invention of film? Okay, sand, obviously. (Right?) How about all popcorn consumed everywhere since the invention of corn? Okay, it is still probably sand. We're not even going to bring in the whole "are there more stars in the universe" debate into this because it will completely consume this post. And this post is about popcorn, that chewy, salty movietime friend. We eat a lot of it 'round these parts, due to our movie love, but people just eat a lot of it everywhere. Meaning that National Popcorn Day? Holds some water (or melted butter, rather). And a whole Popcorn Weekend? Tasty indeed. If that tempts, make for the OC Marketplace on Saturday, Jan. 21 and Sunday, Jan. 22.
IN THE BUCKET: All Marketplace shoppers'll snag a free bag over that weekend. And Kaptain Kernel, pictured, will show up to juggle popcorn balls and perform other popcorn-based comedy. Those words make us happy, "popcorn-based comedy." Rumor has it a giant walking popcorn bag on stilts will make a cameo. Oh yeah. This year isn't very old and yet it already is tons more whimsical than last. And now we're off to pop some kernels. We like hot sauce and parmesan with ours. You?