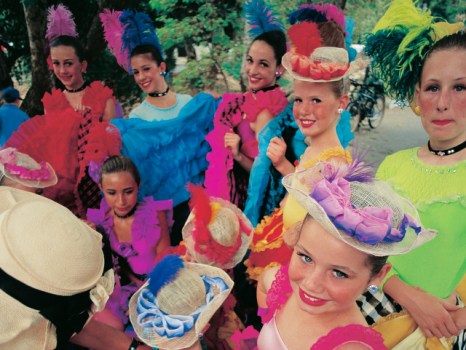 Santa Barbara French Festival
Can-can you make it to the Santa Barbara French Festival? It dances on Saturday, July 12 and Sunday, July 13.
STAYING POWER: Is it hard to keep a baguette around the house, especially when there's a hefty triangle of cheese in the ice box and some grapes to eat it with? Indeed, it is. How about a box of croissants or chocolates or pastries that hail from a favorite boulangerie? For sure, those tempt, too. Being adjacent to French-nice treats is often an exercise in "how long can this last?" And the answer is very often: "not very." Croissants are made for gobbling, and cheeses, too. But what has shown the ability to weather onward, even through the occasional cancellation and postponement, in the fantastique French Festival in Santa Barbara. It just can-can'd its way to its quarter-century birthday in 2013, meaning that it is one of those colorful gatherings that is just here to stay. But not stay put: People dance and they sing and there's the ever-popular Poodle Parade, which does, in fact, involve a slew of Fidos who don't happen to have an ounce of Poodle lineage in their background (though the non-Poodles are very often seen sporting berets). Tempted by this Bastille Day merriment? Then make for the city's Oak Park on...
JULY 12 AND 13: So, really, we're looking at pre-Bastille Day merriment, on the Saturday and Sunday ahead of the actually July 14 holiday. There shall be food and drink, but of course: cheeses, wines, pates, onion soups, crepes, and escargot are on the menu. There shall be entertainment, both of the can-can-y kind and the musical assortment (keep an ear out for all of the accordion). Crafts fill out the days, and art, too, and the dog strut? Things'll get very furry and very French-tastic on the Sunday evening. It's a beautiful and barky way to round out one of the state's largest French Festivals. Nope, you don't have to eat escargot or kick your can-can legs, but why wouldn't you? It isn't every day that Paris visits the American Riviera.