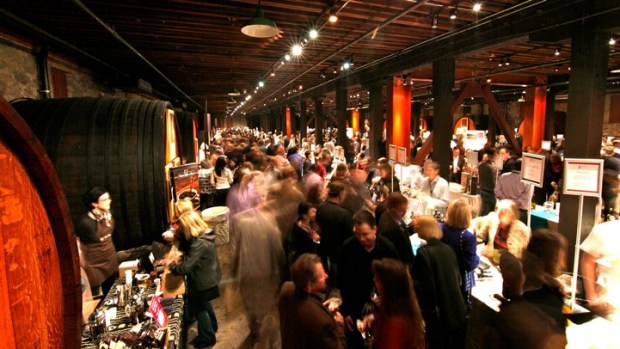 Flavor! Napa Valley
Flavor! Napa Valley? It's all about good food, a little bit of hobnobbing, some demo-type experiences, and good food. Oh, we said that twice? We meant it twice. It happens from Nov. 20 through 24.
FOODIES' OFFICIAL MONTH: Kitchen shops and haute cuisine courses and dinner boot camps exist throughout the year, and successfully so, but November is tops when it comes to food-type advertisements, shows, magazines, and events. The New Yorker's food issue arrives, and blogs that typically wouldn't touch a recipe with a ten-foot spatula are suddenly rhapsodizing about the pleasures of cranberry-chipotle relish. It's a four-week gear-up to Thanksgiving, of course, when many of us, though not all, end turning, once again, to the tried-and-true-and-tasty standards we grew up with. But what might it be like to eat around Thanksgiving week and not have it be the same bean dish you've cooked twenty times? And what if you didn't have to clean up -- the siren call of restaurant advertising everywhere come November -- but you could also meet mondo chefs and enjoy wine country, too? And wait: What if you could wrap it allll up by Thanksgiving itself, so you could make it home to be with kin and kind?
YOU CAN: We refer, of course, to Flavor! Napa Valley, the mega meal-enjoying-wine drinking-chef-hobnobbing to-do that grandly unfurls, Culinary Institute of America-style, the weekend before Thanksgiving. Flavor! is a multi-prong event, meaning you can dip into the stuff you want to do -- everything is ticketed separately -- and not do the stuff you don't. Intriguing happenings this time around include A Downtown Napa Culinary Stroll, a private tasting at Grgich Hills Estate, and a culinary demo with Roy Choi. The tagline of the four-day party -- it rolls from Nov. 20 through 24 -- is, in fact, A Celebration of Food | Wine | Fun, so which of those you want to go for the most, you can. Our vote? Do all three, in equal measure, if possible. After all, it is foodie season, and November is Celebration Central.