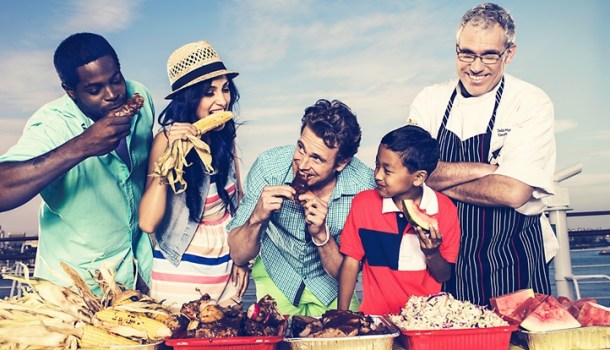 Queen Mary
Pitmasters, unite: The West Coast BBQ Classic is back at the Queen Mary on Saturday, May 10.
PITMASTERS UNITE: When it comes to an outstanding barbecue confab, it is best to have a mix of contenders at the grills. You want the long-timers around, people who've held a sauce brush or twenty or a thousand, the kind of women and men who could dry rub a steak with their apron over their eyes. You want a few renegades in the batch, people who'll throw in the odd spice or two, and newcomers? They're wont to want to set their own path in the world of the 'Q, so innovation is not unusual. It's also a good to gather people from yonder and nearby, too, just to have some flavorful regional balance. That's one of the feathers in the cap of the West Coast BBQ Classic, which is set to get smoky for another year at the Queen Mary on Saturday, May 10. It's geo-diverse, and taste-diverse, too, so the "West Coast" designation is merely where it is set, and not its regional style. Every barbecue buff has to be behind that, because, truly, is any one fan strictly about Kansas City flavors or Texas sauces? Nope. We're all pretty across the board, and thank goodness, too.
DETAILS AND PRICES: The all-afternoon long eat-out kicks off at 11 a.m. Parking is twelve bucks, getting in is fifteen bucks (ten in advance), and tasting tickets? They're two dollars each. Chicken, ribs, pork, and brisket'll be the meats doing the smoking-saucing thing, and the chefs? They'll be going for big cash and a mondo title, so bet the bites will be in top, savory form. Music, watermelon, and cobbler-eating contests round things out. Uh, can we *start* with the cobbler and make for the meats second? That wouldn't be gauche or anything right? Because we'll want both, right away.